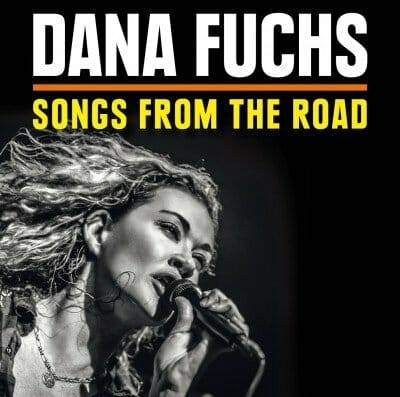 Dana Fuchs
Songs From The Road
Ruf Records
Back in April of 2001, the off-broadway production of "Love Janis" opened at The Village Theater. Dana Fuchs was one of several singer/actresses who alternated in the role of Janis Joplin. The performance included many of Joplin's more familiar songs including "Piece of My Heart", "Me and Bobby McGee", "Ball and Chain" and Mercedez Benz". When she was not working she would often play B.B. Kings Blues Club and Grill on W.42nd Street. In the beginning these were free shows with a wide open dance floor.
Fuchs, originally from Wildwood Florida and living in New York City, gradually developed a young but loyal following. In 2003 Fuchs released her first album "Lonely For a Lifetime". She caught the eye of broadway director Julie Taymor who was then casting 2007's "Across The Universe", a movie based on the songs of the Beatles. Fuchs was cast in a starring role. That same year Fuchs released her second album "Live in NYC".
Fuchs signed with Ruf Records who realized her world wide marketability. In 2011 she released "Love to Beg" co-produced by her and her guitarist/co-writer Jon Diamond. She followed up with her third studio album 2013's "Bliss Avenue".
"Songs From the Road" is a series of live albums from Ruf Records. This new CD/DVD was recorded at New York City's Highline Ballroom on March 14, 2014. The viewer gets a chance to see Fuchs rock out. The band consists of Jon Diamond, guitar and backing vocals; Mack Beck, guitars; Pete Levin, keyboards; Jack Daley, bass; and Joe Daley, drums. Background vocalists include Elaine Caswell, Nicki Richards, and Bette Sussman.
Fuchs includes two songs from "Lonely For a Lifetime"; "Sad Salvation" and "Tell Me I'm Not Drinking". Included from "Love to Beg" are the title track; "Set It on Fire" and Otis Redding's "I've Been Loving You Too Long". The concert performance includes all but two songs from "Bliss Avenue", my favorite being "Rodents in The Attic". Fuchs closes with "Don't Let Me Down" by The Beatles which she originally performed in "Across The Universe".
This new cd/dvd gives us a revealing look at Dana Fuchs, live from the road.
Richard Ludmerer