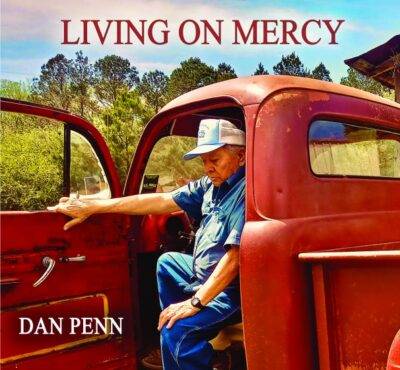 Dan Penn
Living On Mercy
The Last Music Co.
The seventy-eight-year-old Dan Penn was born Wallace Daniel Pennington in Vernon, Alabama. Penn found work at the Fame Studios in Muscle Shoals. He first recorded in 1960, and that same year wrote his first hit for Conway Twitty. He is among our most soulful songwriters. His song "I'm Your Puppet" was recorded by James and Bobby Purify in 1965, Sam & Dave in 1966, and Marvin Gaye and Tammi Terrell in 1969. Other songs written or co-written by Penn include "The Dark End of the Street" first recorded by James Carr in 1967; "Do Right Woman, Do Right Man" best known and recorded by Aretha Franklin in 1968; "Cry Like a Baby" recorded by the Box Tops, also in 1968; "It Tears Me Up" recorded by Percy Sledge; and "You Left the Water Running" waxed by numerous artists including Barbara Lynn, Wilson Pickett, Sam & Dave, and Otis Redding. These are just a few of Penn's best known songs.
Penn released his first full length album "Nobody's Fool" in 1973. He rarely releases his own albums preferring to remain a songwriter and producer. In 1994, after a twenty-one-year hiatus, Penn released "Do Right Man" on Sire Records. In 1999 he recorded the live set "Moments From This Theatre" with Spooner Oldham. He recorded two more studio albums, the last in 2008; released a compilation in 2012, and re-issued his set with Oldham in 2015.
The songs on "Living On Mercy" have been written with some soulful collaborators including Oldham, Wayne Carson, Gary Nicholson, Carson Whitsett, Bucky Lindsey, Buzz Cason, Will McFarlane and the Cate Brothers. Penn gathered his studio band. Included are McFarlane, guitar; Clayton Ivey, keyboards; Michael Rhodes, bass; Milton Sledge, drums; a full horn section, and the backing singers.
Highlights include "I Do" as Penn sings "who needs your sweet kisses every night, I do"; Penn's narrative on "What It takes To Be True", and the song "let me have a Clean Slate". "Leave It Like You Found It" features the lyric "and I'll forget I ever found you". Penn will lift you up with "Things Happen' when you least expect it"; and "I got a Soul Connection, so close to perfection, it's kind of hard to explain". My favorite however is "Down On Music Row". Ivey's organ decorates the title track; while he plays both organ and piano on "I Didn't Hear That Comin'". McFarlane's guitar is fabulous on "you got me living on the Edge of Love", and on "Blue Motel".
Penn's "voice sounds like it comes from the strong Southern soil". You will listen to this recording many times, hearing things you may have missed the time before. Penn's songwriting "can give life to the human spirit", as his songs have the emotional directness that make them live forever.
Richard Ludmerer