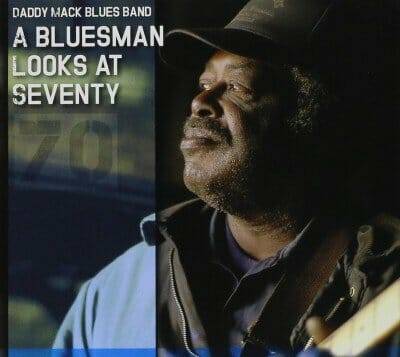 Daddy Mack Blues Band
A Bluesman Looks At Seventy
Inside Sounds
Every blues community has its elder statesmen. In Memphis that would be Daddy Mack Orr. At the age of forty-five Mack decided he would teach himself the guitar. He got so good that he began playing with the legendary soul blues band "The Fieldstones". A few years later the Daddy Mack Blues Band was born.
Mack cut his first album "Fix It When I Can" in 2000. He became known for his stage presence and fat guitar tone. Mack released two albums in 2006. Both "Bluestones" and "Slow Ride" featured the band with special guest Billy Gibson. Gibson was Mack's label mate on Inside Sounds and went on to win the 2009 Blues Music Award for Best Instrumentalist-Harmonica.
This is The Daddy Mack Band's seventh cd and it celebrates Mack's seventieth birthday. The band still consists of Mack, guitar and vocals; James Bonner, rhythm guitar; Harold Bonner, bass; and "Fast" Eddie Lester, drums. The album is co-produced by Eddie Dattel, the founder of Inside Sounds, and Wally Ford.
Dattel and Ford are also songwriters and they have written all the songs. Daddy Mack opens with "Champagne Fantasy", "every day's a Friday; every night is New Year's Eve". Mack takes a commanding guitar solo. Matt Isbell of The Ghost Town Blues Band guests on rhythm guitar. Also guesting on acoustic guitar is Ford who also fronts his own band, Wally Ford and Lizard Kings. Isbell and Ford sit in again on "Red, White, Blue and Green". Dattel becomes a backing vocalist on this track.
"She Loves Money" features the lyric "crazy about the way the dollar folds". Harold Bonner's bass is upfront in the mix. Joe Boogie guests on organ. Carl Wolfe also sits in and takes a nice saxophone solo. This is a great track that should receive a fair amount of airplay. "Fix It When I Can" is reprised from Mack's first cd.
The songwriters know Mack loves to fish so they wrote about it in "I Like Fishin'". Mack sings the sentimental "After All These Years" that closes out this fine album.
Mack is seventy years young and still going strong. Happy birthday Mack.
Richard Ludmerer