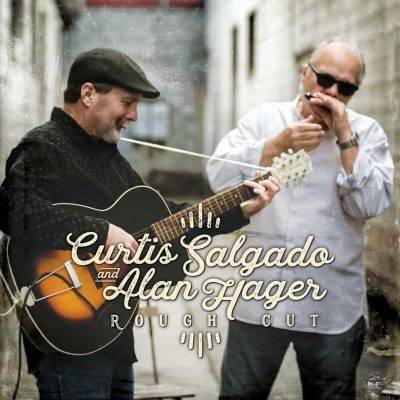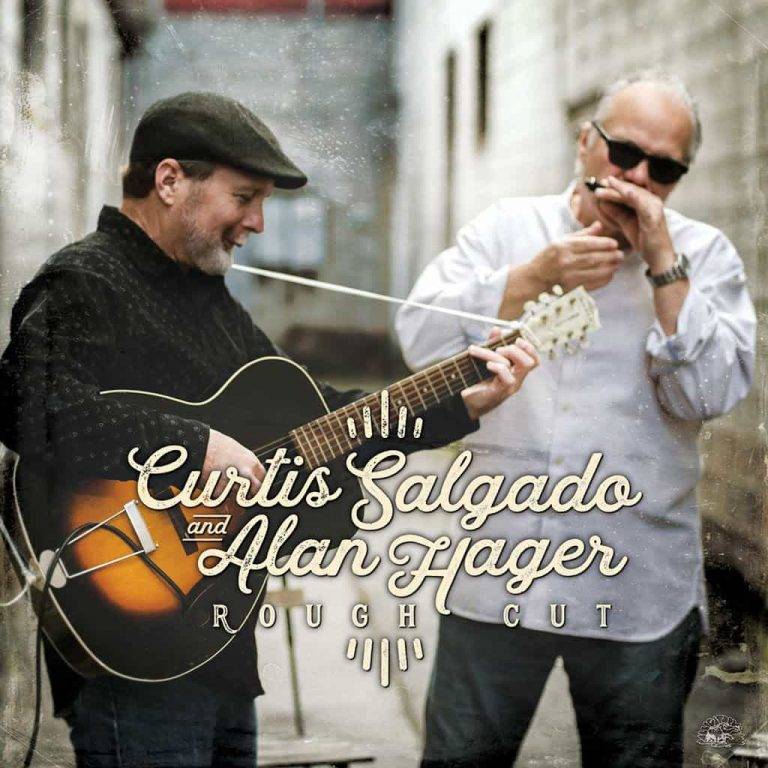 Curtis Salgado and Alan Hager
Rough Cut
Alligator
We've come to know Curtis Salgado mostly as a blues singer leaning heavily toward soul, with his horn-drenched bands. Now we see another side of Salgado – the deep blues done raw and unadorned with his band's lead guitarist, Alan Hager, showing impeccable talent here too. Rough Cut, as the title suggests, is stripped down acoustic style across a baker's dozen of originals and both familiar and relatively seldom done covers. "We did it for the love of the music," says Salgado. "This is where our hearts are. These are deep songs we love to play."
As the album unfolds, three elements remarkably impress. These are some of the most emotive vocals Salgado has ever laid down, his harmonica playing is creative and inspiring, while Hager's guitar, whether picking or on slide, is dazzling throughout. Salgado, without a trace of bias says about Hager, "He's the best player in the business, unlike anybody else. One reason I made this record was to show him off."
Hager grew up in Portland, Oregon and began playing as a blues and jazz prodigy at age ten. He studied under Pat Metheny at Boston's Berklee School of Music and later studied classical guitar at the prestigious New England Conservatory of Music, graduating in 1979. During the '80s he toured as part of a classical duo and did teaching as he still does. However, he never lost his love for the blues and especially the early Delta pioneers. When He moved back to Portland in 1988, he quickly fell in with Salgado with whom he has been playing since 2003, joining the band full-time in 2015.
Salgado, of course, has been performing for three decades now, realizing his most success with Alligator, after first signing with them in 2012, winning six Blues Music Awards, three each for 2012's Soul Shot and 2016's The Beautiful Lowdown. Then health issues came to the fore again. Following his remarkable ability to survive both lung and liver cancer, Salgado underwent quadruple bypass surgery in March 2017. Yet he is back on the road, performing as a duo with Hager and with his band. Not only is he a living testament to resiliency, but you can hear it and feel it in the opening track, "I Will Not Surrender." My guess is that Salgado and Hager will contend for at least one Blues Music Award with this one too.
There's a spare, haunting quality to the album that hearkens back to those early Delta and field recordings. Not only do you hear it in "I Will Not Surrender" but again in Sonny Boy Williamson's "Too Young to Die" another packed with lyrics dear to Salgado's current stance on life. Listen to Muddy Waters' "I Can't Be Satisfied," a song covered by hundreds of people, and you'll find that this is one of the most genuine versions ever done. Salgado and Hager have already developed a fan favorite in the ode to man's best friend, "I Want My Dog to Live Longer (The Greatest Wish)." Larhonda Steele adds a real gospel feel to the traditional "Morning Train" as she trades verses with and duets with Salgado. Notably, Salgado plays piano on hos own "Hell in a Handbasket" while Hager takes the vocal on Robert Wilkins' "Long Train Blues."
Good news as we begin 2018 – Salgado and Hager will be performing as a duo on their own and during the full band shows. Hager calls this "American Classical music" while Salgado says, "This type of music moves us the most. You believe it when you hear it." Indeed, you do.
[amazon_link asins='B07765H5DH,B01CIEPX7A,B007941CNO,B000008KDK,B00187PN56,B002SQJUD2,B0001CNQ9E,B00000I9CY,B01CIEQ43C' template='ProductCarousel' store='maasc-20′ marketplace='US' link_id='3cff588b-f1a3-11e7-8fa2-53ef87390b4e']