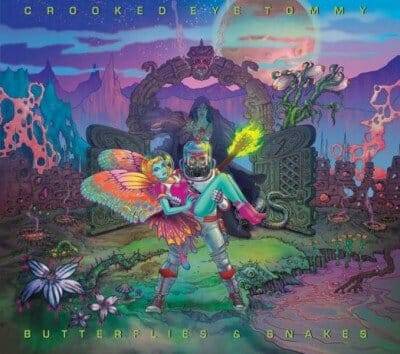 Santa Barbara blues group Crooked Eye Tommy has only been around since 2013 and Butterflies & Snakes is their debut album. Yet the band delivers a professional, smoking and very entertaining recording.
Of course, this is not Delta blues. California blues tend to have a lot of Southern rock roots and owe more to The Allman Brothers and Marshall Tucker than to Robert Johnson. Yet the blues roots remain very obvious.
Brothers Tommy and Paddy Marsh handle guitars and Tommy takes most of the vocals, with Paddy singing three songs which he also wrote. Tommy wrote the rest of the songs. Tony Cicero plays drums, Glade Rasmussen is on bass and seasoned player Jimmy Calire is on sax.
The album starts right out with searing slide guitar and a biting,growling tale of "Crooked Eye Tommy," a man that no one knows or understands but who warns that "Someday you'll see what a crooked eye can do."
"Come on in" slithers sensuously, with Tommy Marsh's reverb-soaked guitar pulling you in and Calires sax pinning you in place for the duration of the song. "I Stole the Blues" struts and delivers plenty of blues attitude. "Time Will Tell" is Texas blues in the style of Stevie Ray Vaughan, while Paddy Marsh's "Tide Pool" slows things down with a soulful number.
"After the Burn" adds a slight Latin rhythm under the searing vocal "Somebody Got To Pay" keeps the beat rolling , leading to the superb "Love Divine,"a long song which reminds me forcefully of Marshall Tucker. "Mad and Disgusted" shows that the band can do rockabilly, before slowing things down for the moody "Over and Over."
Things end with the pure Southern rock of "Southern Heart," an anthem about being Southern to the core by a singer and writer who isn't Southern at all. It's not the first time a Southern anthem was written by an outsider. (Think of The Band's "The Night They Drove Old Dixie Down."
Crooked Eye Tommy are good. Really good. The songs are diverse but all of them are well-written and attention-grabbing and you will enjoy this album. Expect to hear more from this band.