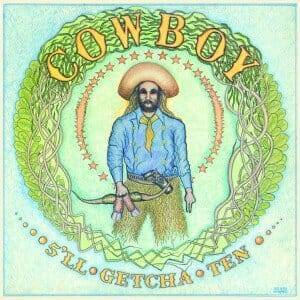 Cowboy "5'll Getcha Ten" www.RealGoneMusic.com
I actually saw Cowboy opening for (I don't recall the band, but it wasn't the Allman Brothers,) at the Fillmore East, but they were a captivating laidback country-rock band that immediately captured my attention. Cowboy is frequently remembered for their associations with the The Allman Brothers Band and Eric Clapton rather than the music they conjured during the very early 70s. "5'll Getcha Ten" was Cowboy's second LP released by the Capricorn label in 1971. Until now it's never digitally released. It's also (probably) Cowboy's highpoint and indeed one of the most forgotten country-rock albums from that era..
Cowboy's Talton and Boyer favor a distinctively relaxed sound and rarely rock-out, but they emit a subtle-beauty with consistent instrumental twists, turns and fascinating hooks. Side one opened with (the first of two) Tommy Talton tunes "She Carries a Child," Scott Boyer's "Hey There Babe" skips along with sweet guitar licks and Chuck Leavell's bouncy keyboard fills. The third song (the title track) is the only other Talton original, afterwards his songwriting additions are nowhere to be found – odd. Boyer's and Bill Pillmore's "Shoestrings" grooves with Leavell's keys and impromptu solos from one of the guitarists that mesh smartly. Side one concludes with Boyer's haunting "Lookin' For You" that fades with a sweet (but short) instrumental segment.
Side two of the LP started with Pillmore's "Seven Four Tune" perhaps the albums most upbeat tune, it's here you hear Duane Allman open up especially during the outro, but do not expect any epic jams. Boyer's "Right On Friend" utilizes what sounds like an amplified sitar guitar that fits, Leavell again adds substance with his piano comps but when Duane Allman's guitar enters this song starts sounding like Dickey Betts' "Blue Sky." I seem to recall Boyer's "All My Friends" receiving some late-night FM airplay, it's a tender tune with lush (but not overdone) harmonies, with a little fiddle playing that adds depth, Leavell's back doing his thing on piano too, it's a very well-crafted song. "Innocence Song" by Boyer and Pillmore is another harmonizing beauty that occasionally takes from the Beatles tender side, it's very short and segues to "Please Be With Me" with Duane Allman's seductive acoustic dobro. As previously mentioned Clapton covered this song, but I'm wondering if Duane made the recommendation to Eric during the "Layla" sessions, or was it that other wizard Tom Dowd? Cowboy's closer is Pete Kawalke's (his lone contribution, but it's a good one) "What I Want Is You" Duane Allman is back in the mix sumptuously adding so much elegant guitar ooze to the finale that wound up being (this lineup) of Cowboy's swansong.
Those of us who enjoyed the Pure Prairie League, The New Riders, Poco, and early albums by the Eagles will definitely appreciate Cowboy. But this band had their own vibe, especially with Johnny Sandlin's production, Chuck Leavell's heady keys, and perhaps the greatest guitarist of all-time; Duane Allman who doesn't try to steal the show, instead offers his superlative sideman professionalisms. So much so you have to listen closely, but if you do – you'll be pleasantly rewarded and understand what a massive talent Duane was. Please just remember this is not the Allman Brothers Band "Live at the Fillmore East."
I often wondered why "5'll Getcha Ten" was never reissued, but Real Gone Music has now taken care of that request, plus they also (previously) reissued Cowboy's debut album "Reach For the Sky." Hopefully Real Gone might consider the 1974 album simply titled "Boyer & Talton" for a future release? Last but not least checkout the very appreciated and extensive 2014 liner notes by Scott Schinder with numerous and reflective quotes from Tommy Talton, but missing are track by track instrument credits, plus there's no individual track times offered…
For sixteen years Bob Putignano has been pivotal at WFDU with his Sounds of Blue radio show (Mon. & Wed. 9am-1pm) www.SoundsofBlue.com – Previously a senior contributing editor at Blues Revue, Blueswax, and Goldmine magazines, currently the Music Editor for the Yonkers Tribune www.YonkersTribune.com – www.MakingAScene.org & www.wfdu.fm/Whats-Happening/Bob's Music Reviews/bobs music reviews/ Bob was the 2003 recipient of the "Keeping the Blues Alive" award (given by the Blues Foundation in Memphis) for his achievements in radio broadcasting.
Putignano can be contacted at: bob8003@yahoo.com