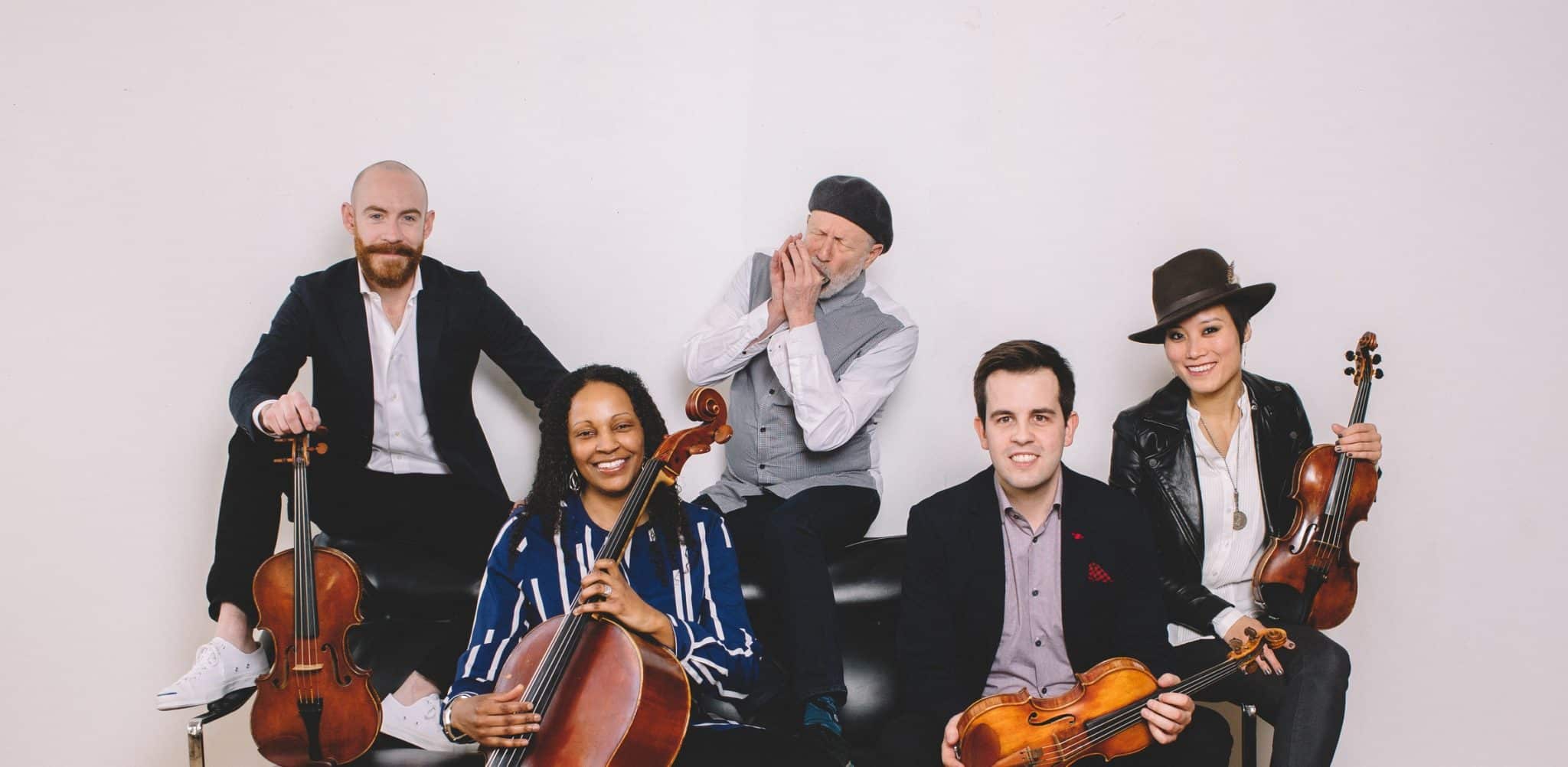 ---
---
---
---
---
---
---
---
---
---
Making a Scene Presents an Interview with Corky Siegel of Chamber Blues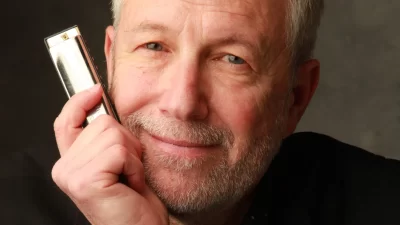 Corky Siegel is known internationally as one of the world's great blues harmonica players, and is a celebrated composer, blues pianist, singer, songwriter, band leader and author.
Along with the likes of John Cage, Steve Reich, Phillip Glass, and Meredith Monk, he is the recipient of a Meet the Composer/Reader's Digest Commissioning Program for New American Music grant for chamber music composition resulting in his Chamber Blues ensemble's popular Aunt Lila's Suite; he has also been honored with the Illinois Arts Council Fellowship Award for Music Composition, the Chicago Music Awards' Lifetime Achievement Award, and induction into the Chicago Blues Hall of Fame.
Born Mark Paul Siegel in Chicago in 1943, Corky's professional music career began when he founded the now legendary Siegel-Schwall Band in Chicago in 1965 with guitarist Jim Schwall. The group was a major component of the young generation of white blues artists—also including Paul Butterfield, Charlie Musselwhite, Harvey Mandel, Barry Goldberg, Nick Gravenites and Michael Bloomfield—who learned the historic Chicago blues style at the feet and hands of such towering figures as Muddy Waters, Howlin' Wolf, Little Walter, Willie Dixon, Buddy Guy and Sam Lay.
Corky played with all these greats at Siegel-Schwall's first steady engagement, in 1965 at Peppers, Chicago's internationally renowned blues club. They were soon signed to Vanguard Records, with blues luminary Samuel Charters producing. Their first album, The Siegel-Schwall Band, was released in 1966, and with it the group made San Francisco a virtual second home: There the likes of Janis Joplin, Santana, Steve Miller and Joni Mitchell opened for them (Siegel-Schwall actually produced Mitchell's demo tape with her hit Circle Game); the band would record three more classic albums for Vanguard up through 1970, then five for Wooden Nickel/RCA through 1974 before going on hiatus.
In 1973 the band released Three Pieces for Blues Band and Symphony Orchestra on the prestigious classical music label Deutsche Grammophon. The titletrack was an avant-garde piece composed by jazz trombonist William Russo combining classical music played by an orchestra (the San Francisco Symphony) with blues music played by a four-piece band (Siegel-Schwall) conducted by maestro Seiji Ozawa.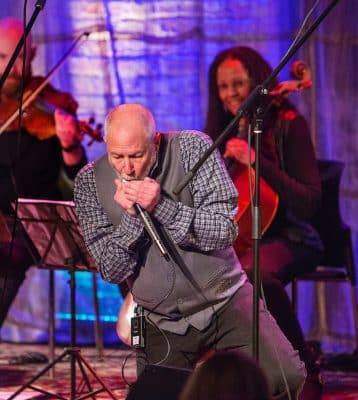 Ozawa had been a huge fan of Siegel-Schwall since 1966, when he was the first music director of the Ravinia Festival–the summer home of the Chicago Symphony Orchestra. He used to see the band perform frequently at Chicago blues clubs, and suggested a blues-classical collaboration. Corky worked closely with Russo, and in 1968 they premiered Three Pieces for Blues Band and Symphony Orchestra with Ozawa and the Chicago Symphony Orchestra; its success—including a high charting Billboard pop and classical single culled from the program–led to Siegel-Schwall's performance with Arthur Fiedler and the Boston Pops Orchestra on an Evening At Pops program for PBS, and in 1979, Deutsche Grammophon's release of Russo's Street Music, A Blues Concerto, featuring Corky on harmonica and piano, which received the French Government's Grand Prix du Disque award as well as the Recording of Special Merit in Stereo Review.
After releasing three solo albums, Corky founded Corky Siegel's Chamber Blues, featuring himself on harmonica, piano and vocals, the West End String Quartet of topflight Chicago classical string players, and Frank Donaldson on world percussion instruments. The novel ensemble performed Siegel's pioneering blues/classical music compositions and released its first album, Corky Siegel's Chamber Blues, on Chicago's famed blues label Alligator Records in 1994. The album gained rave notices from publications like Billboard and Stereophile, and has been followed by two more albums.
Additionally, Corky has written and performed works for the Grant Park Symphony in Chicago (including Blues for a Green Planet-Opus 10) and the National Symphony Orchestra at the Kennedy Center. He composed Continuum with renowned choreographers Alwin Nikolais (the father of modern dance) and Murray Louis, and his music has also been choreographed and performed by five international ballet companies and has been used for numerous motion pictures and national TV specials, as well as the Olympic men's figure skating competition and the World Championship skating competition featuring Olympic gold medalists Torvill and Dean. A more recent commission from the Lancaster Symphony Orchestra, Symphonic Blues #6, has already been performed many times around the world and Symphonic Blues #7 was was recently premiered.
Corky continues to appear internationally as guest soloist with symphony orchestras including the New York Philharmonic, Orchestre de la Suisse Romande, the Boston Symphony Orchestra, Orquestra Metropolitana De Lisboa in Portugal, the Orchestre Symphonique de Montreal, the NHK Symphony in Japan, and the Philadelphia Orchestra with Maestro Charles Dutoit. He has performed many symphonic collaborations with Doc Severinsen, and also tours frequently with Dr. L. Subramaniam, India's greatest Eastern classical violin virtuoso: These "global fusion" tours have further featured some of the top names in jazz including Ernie Watts and the now late Larry Coryell.
Corky phased out his performances with Siegel-Schwall in 2016, but stays in close contact with his family, Jim Schwall and longtime bassist Rollo Radford, and drummer Sam Lay, a Rock and Roll Hall of Fame inductee as a member of the Paul Buttefield Blues Band. Corky is prominently featured in the acclaimed documentary Born in Chicago, which recounts the history of the '60s rock-blues explosion and also stars Bob Dylan, Jack White, Keith Richards of the Rolling Stones, Eric Burdon and Steve Miller, as well as Barry Goldberg, Harvey Mandel and Nick Gravenites; he has recorded and toured with Goldberg, Mandel, Gravenites and Lay as the Chicago Blues Reunion.
In 2007 Corky published the music guide book Let Your Music Soar: The Emotional Connection, co-written with Peter Krammer. And his harmonica playing accompanies the storytelling of award-winning Mexican American young adult novelist Pam Muñoz Ryan in the audio book version of her 2015 book Echo, a mysterious tale involving a prophecy, a promise and, of course, a harmonica.
Find our Podcasts on these outlets
Help Support Making a Scene
Your Support helps us pay for our server and allows us to continue to bring you the best coverage for the Indie Artists and the fans that Love them!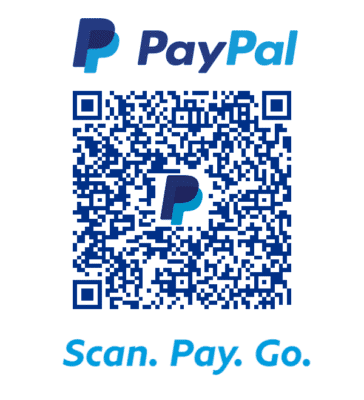 FOLLOW US ON INSTAGRAM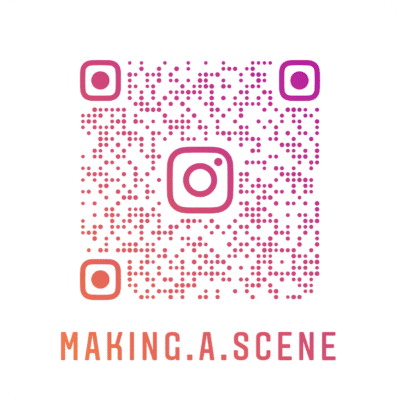 Subscribe to Our Newsletter