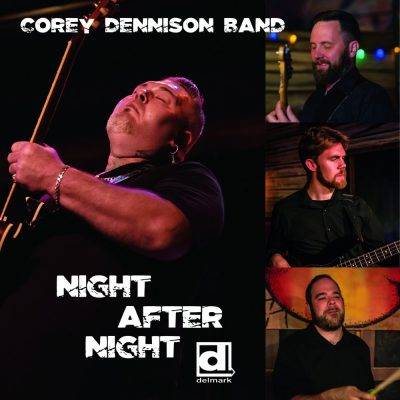 Corey Dennison Band
Night After Night
Delmark Records
Corey Dennison hails from Chattanooga, Tennessee. He got his first guitar when he was six years old. He used to hang out with his harp playing uncle so his early influences were Junior Wells, Albert Collins and Albert King. Dennison also fell in love with the soul sounds of Wilson Pickett, Curtis Mayfield and Sam Cooke. While spending twelve years as a sideman for Carl Weathersby he got to share the stage with Nick Moss, Lurrie Bell, Carlos Johnson, Buddy Guy and others.
Dennison learned how to mix Blues and Soul, without using horns or background vocalists, and formed The Corey Dennison Band in 2013. His first album was recorded "Live in Chicago". In 2016 Dennison signed with Delmark Records and the band released their self titled studio debut. At the 2017 Blues Music Awards The Corey Dennison Band received a nomination for Best Emerging Artist Album. They also won the 2016 Le Prix Blues award for best blues album; the French equivalent of our BMA's.
The band includes Dennison, guitar and vocals; Garry Hundt, guitar, organ and harmonica; Nik Skilnik, bass; and Joel Baer, drums and percussion. Hundt received his own BMA nominations; one each year between 2008 and 2011.
Eight of the tracks are new songs written by Dennison; seven of them with Hundt. The album opens with "Hear My Plea". Dennison's passionate vocal "please take me in your mercy" and lead guitar solos are infectious as is the rhythm section of Skilnil and Baer. In fact Baer is awesome.
Dennison's guitar intro opens "Misti" and it'll make you want to get up and dance. "I say Misti, Oh Misti, M-i-s-t-i".
"Hey let's go, let's go, whoowee… I don't like smokin dope, I don't like drinkin wine, but I have fun around you honey your so gosh darn fine, I Get The Shivers, from you and nobody else".
Hundt's harmonica opens a narrative by Dennison. "My father died before his time and I had to take his place…bad times made me a Better Man".
A funky beat opens "Phone Keeps Ringing" as Dennison sets the rhythm on his guitar before soloing; this is another soulful vocal. The versatile Hundt switches to organ on "Nothing's Too Good (For My Baby)". The song reminds me of all those Motown classics but the sparse sound of a four piece band excites me even further.
"Nightcreeper 2 (Still Creepin')" is a funky tune with some great bass from Skilnik and another narrative from our story teller Dennison. "It's So Easy" is another good vocal with a walking bass line from Skilnik.
The five covers include "Love Ain't Fair" written and recorded by Carl Weathersby on his 2003 album "Hold On"; this slow blues is given a nice treatment by Dennison. "Are You Serious?" written by L.V. Johnson and Roger Miner the song was a hit for Tyrone Davis in 1982. "Stuck in Chicago" is from the southern rockers, The Cate Brothers. "Troubles of The World" was written by the African American composer, performer and music educator William Levi Dawson who died in 1990 at the age of 91. "Down in Virginia" was written and recorded by Jimmy Reed in 1969. These are excellent versions.
The Corey Dennison Band is a wonderful unit. Some of his songs are a bit poppy but Dennison's music is fun. I love this band.
Richard Ludmerer
[amazon_link asins='B073SZBXSR,B01ASC1DGE,B01C6YS55Y,B01C6YRUJ6,B01C6YRRCG,B01C6YS2PC,B01C6YRZAK,B01C6YRVKO,B01C6YRTEM' template='ProductCarousel' store='maasc-20′ marketplace='US' link_id='0d8b3214-9f47-11e7-881a-11363d65e4b4′]