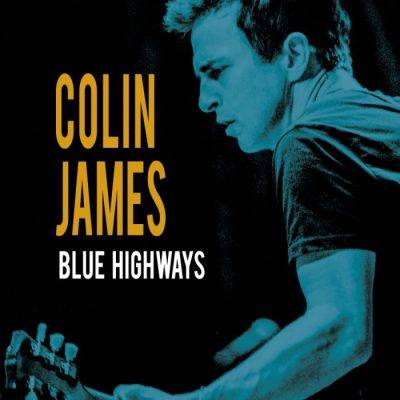 Colin James
Blue Highways
True North Records
Colin James Munn was born in Saskatchewan Canada in 1964. As a young man he and his band opened for Steve Ray Vaughan who suggested that he drop his last name. James released his first recording in 1988. He is probably most well known in blues circles for his jump blues band. "Colin James and The Little Big Band" was released in 1993. A follow up "Colin James and The Little Big Band II" was released in 1998; and "The Little Big Band 3" in 2006. In 2007 James received three Maple Blues Awards including "Entertainer of The Year". Overall James has a total of seventeen Maple and six Juno awards. James' last album was 2015's "Hearts On Fire".
"Blue Highways" is James' eighteenth album and on it he pays tribute to some of his blues influences. The band includes James, guitar and vocals; Craig Northey, rhythm guitar; Jesse O'Brien, piano; Simon Kendall, organ and piano; Steve Pelletier, or Norm Fisher, bass; Geoff Hicks or Pat Steward, drums; and Monkey Junk's Steve Marriner, harmonica.
"Boogie Funk" is an instrumental written by Freddie King and originally recorded by him in 1972. The band has a Canned Heat type of sound dominated by James' guitar and Kendall's organ.
"Watch Out" was written by Peter Green and first performed by Fleetwood Mac in 1967. James' friendly vocal has great clarity.
"Big Road Blues" was written by Tommy Johnson (1896 – 1956) the song was first recorded in 1928. Johnson also wrote "Canned Heat Blues" from which Canned Heat took their name.
"Bad Bad Whiskey" was written by Thomas Maxwell Davis and first recorded by Amos Milburn in 1950; a favorite version of mine appears on Buddy Guy and Junior Wells 1972 album "Play the Blues". "Hoodoo Man Blues" was written by Amos Wells Blakemore also known as Junior.
"Going Down" was written by Don Nix who was a founding member of The Mar-Keys which also included Steve Cropper and Donald Duck Dunn. Their big hit was the instrumental "Last Night" which sold over 1,000,000 copies. When Nix left the band Booker T. and The MG's were born. This is another fine vocal from James.
"Gypsy Woman" was written by Muddy Waters and first appeared on his album "Real Folk Blues" in 1965. This is a deep blues featuring harp ace Marriner.
"Goin' Away" was written by James A. Lane a.k.a. Jimmy Rogers who was a member of the Muddy Waters Band from 1947 until 1954. The song rocks as James plays bottleneck style.
"Lonesome" was written by Memphis Slim who was born John Len Chatman. Out of respect he published his songs using his father's name Peter Chatman. Memphis Slim passed in 1988.
A medley of Howlin' Wolf's "Riding in The Moonlight" and Jimmy Reed's "Mr. Luck" is performed as a duo with Marriner. "Don't Miss Your Water" is the William Bell classic.
"Ain't Long For Day" is from Blind Willie McTell. The closer is Robert Johnson's "Last Fair Deal" performed solo with James on guitar.
James is a star in Canada where he has released a total of thirty-nine singles. This is the kind of album that can cause a young listener to become a blues nut like the rest of us; kudos to James.
Richard Ludmerer