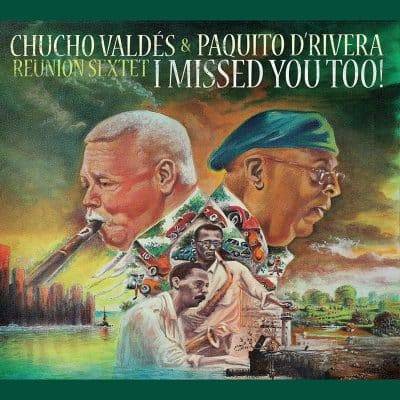 Chucho Valdes & Paquito D'Rivera Reunion Sextet
I Missed You Too!
Sunnyside
This is a reunion over 40 years in the making, uniting two of the most iconic Cuban jazz musicians of our times. Saxophonist/clarinetist Paquito D-Rivera has established a decorated legacy of his own since moving to New York in 1980. Among so many excellent Cuban pianists, Chucho Valdes still remains as the foremost artist on the instrument. These two, both child prodigies and each sons of accomplished musicians, upon meeting rather serendipitously in 1962, began to shape jazz in Cuba. At first, they were members of the Orquesta Cubana de Musica Modern, a large experimental ensemble used for stage and screen. Soon thereafter they formed Qunteto de la Orquesta Cubana, a small combo that focused on jazz with the influence of Afro-Cuban rhythms. Their longest collaboration was with the jazz fusion group Irakere, which began in 1973. After D'Rivera departed to the states in 1980, Valdes continued to lead the group until 2005 before embarking as leader of his groups and solo performer.
The two have reunited in recent years and recruited four more players for this landmark recording, which took place at the Frost School of Music at The University of Miami in January 2022. The sextet features trumpeter/valve trombonist Diego Urcola, drummer and bandleader in his own right, Dafnis Prieto, bassist Jose A. Gola, and percussionist Roberto Junio Vizcaino.
Valdes' signature percussive piano kicks off his own "Mambo Influenciado" as D'Rivera takes flight on alto followed by stirring solos from the pianist and Urcola on trombone. The pianist's "Mozart a la Cubana" is in a sense a throwback to the classical training of the two co-leaders as they blend jazz and blues forms from Mozart's "Eine Kleine Nachtmusik." D'Rivera's "I Missed You Too!" the title track, is a swing tune with the composer on clarinet and Urcola again on trombone. The tone each draws from his respective instrument is remarkable as are the multiple percussion flourishes from Vizcaino and Prieto. While that one pays respects to Valdes, "Pac-Man," written by Hilario Duran, honors D'Rivera, heard on alto along with Urcola on trombone in a festively percussive piece driven by the effervescent rhythm section, navigating through tricky syncopated rhythms, known as montuno.
Valdes' lush ballad provides quite the contrast. Weighing in at over ten minutes, it is by far the lengthiest track, and it displays the rather seldom seen side of his pianism, the graceful, elegant, and at times haunting. D'Rivera is at his lyrical best, carrying the melody on clarinet before Urcola steps in with muted trumpet but the focus belongs mostly to Valdes in his sparkling turn and sensitive comping. The two co-leaders wrote "El Maja De Vento," a churning, rollicking piece with the horns (D'Rivera on alto and Urcola on trumpet) blowing fast and hard over the full throttled rhythm section, with Valdes making full sweeps of the keys, paving the way for Gola's bass solo, before they sextet takes it home to an explosive climax. In this alternating pattern of bright to calm, the album closes with an intimate duet between the pianist and the reedist, Carlos Gardel's lilting tango, "El Dia Que Me Quieras" with D'Rivera coaxing lush, fluid, emotive lines from his alto while Valdes gets bluesy in his own solo.
These are two of Cuba's most lauded jazz musicians playing together expressively with the joy so palpable, the listener can feel it. It's difficult to make up for forty years of lost time, but this is a valiant effort, with diverse selections that depict the brilliance of these two icons.
Help Support Making a Scene
Your Support helps us pay for our server and allows us to continue to bring you the best coverage for the Indie Artists and the fans that Love them!
Make a one-time donation
Make a monthly donation
Make a yearly donation
Choose an amount
Or enter a custom amount
$
---
Your contribution is appreciated.
Your contribution is appreciated.
Your contribution is appreciated.
Donate
Donate monthly
Donate yearly
You can donate directly through Paypal!
Subscribe to Our Newsletter