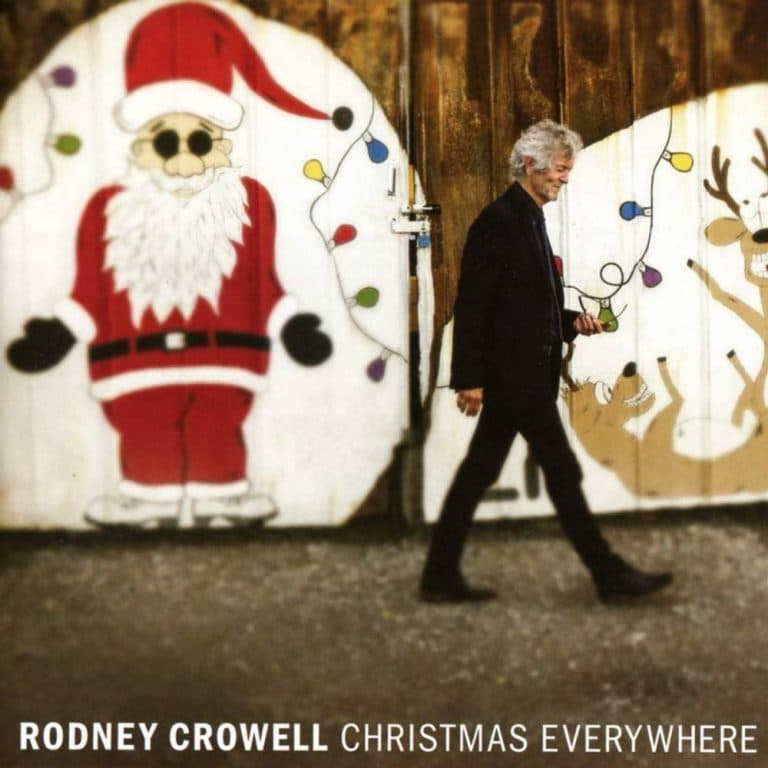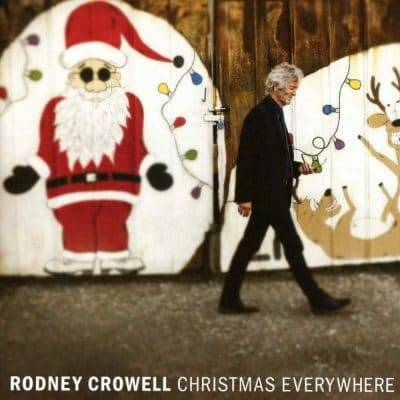 Christmas Everywhere by Rodney Crowell
New West Records 2018
Rodney Crowell's Christmas Everywhere is the album that'll restore your belief in the spirit of Christmas. December finds me kicking and dragging my feet as it pulls me towards Christmas. I'm not in the mood. No tree, no carols, and especially no malls! The last thing I thought I'd find myself doing is listening to a new Christmas album, much less reviewing one. I can only imagine what Rodney Crowell was thinking as he was writing the songs that would become Christmas Everywhere. Crowell who self-professes being sour on all things related to Christmas put out a by gum Christmas album, his first ever. It's the last thing any of us expected in this topsy turvy year and yet here we are.
As I'm listening to the album, I come to realize I had been listening to it for the third day in a row, most of that time hitting replay for the song, "When The Fat Guy Tries The Chimney On For Size". This song had the same effect on me as Hayes Carll's soulful, "Grateful For Christmas" did on Rodney back in 2011. Crowell says the song "jolted him out of a self-indulgent funk" and also "tweaked his creative curiosity". The song is powerful in all forms lyrical and musical. It's a hybrid of Mavericks meets Kamasi Washington meets Ry Cooder meets Rodney Crowell and is funky as hell. The melding of this new song with the comfortable traditional Christmas melodies is fantastic. From the ice breaking simple keyboard to the smooth electric guitar and bass to the Rodney Crowell take on the night before Christmas lyric it's an instant classic. Rory Hoffman ads to the magic of this song with a tenor sax that, well, keeps this song on constant rotation. Rodney's lyric, "It's only then you start to realize, the more you want to give than to receive, is when you feel the magic hidden up the fat guy's sleeve". That's the line that helps you believe again.
As one of the few Christmas traditions to escape commercialism (barely), "The Night Before Christmas" is the muse for the first song on the album which is also the last song recorded. "Clement's Lament (We'll See You in The Mall)" is a traditional Christmas song in feel with the angelic vocals of Tania Hancheroff, Kim Keyes, and Dan Knobler. The lyrics are pure Rodney Crowell as he slides in the phrase, "We won't bother with the truth when those we love are near". This is not your typical Christmas album. I'm piqued. The next song, and title song, "Christmas Everywhere" written with Gypsy Jazz guitarist and composer John Jorgenson, captures the frenzied pace we've become accustomed to this time of year. One of my favorite phrases in this song isn't a written word, it's a perfectly placed sigh that is brilliant.
Rodney has had this album in the works for some time. The songs on the album are all original and were written over the course of his career, the earliest dating back to the early eighties. Becoming a grandfather I'm certain had a lot to do with taking stock in Christmas and realizing perhaps a Christmas album Rodney Crowell style is something worth undertaking. There were songs he had penned that were sitting homeless in his writer's notebook. In the mid-nineties he and Chuck Cannon wrote the jangle (jingle) bells blues "Christmas Makes Me Sad". Ten years later while writing songs for their album KIN Rodney and Mary Karr wrote "Christmas In Vidor". The beautiful song, (referring to a tacky color wheel tree), "Merry Christmas From An Empty Bed" was co-written with Brennan Leigh in 2015.
Written at about the same time as the title song, Rodney wrote the aforementioned "When The Fat Guy Tries The Chimney On For Size", the reflective "Christmas In New York", the country swinging "Christmas For The Blues", and the rocker, (written with famed poet Mary Karr), "Let's Skip Christmas This Year". "Very Merry Christmas" is a juke joint rocker.
One of the prettiest songs on the album, "Come Christmas", is a traditional ballad. The melody was written by Crowell's then ten and eight-year-old granddaughters Addie and Iris. Rodney came home to find them sitting side by side on the piano playing this tune they had made up. Fortuitously, he recorded the melody and then spent months composing the lyrics. A generation had passed since he had written songs with their mothers. As children, Rodney's daughters Hannah and Caitlin would write silly little songs with their father. The first song recorded for the album and the song that draws the album to a close is one of these songs. "All For The Little Girls And Boys" somehow made it on cassette tape all those years ago and features the childhood voices of Hannah, Caitlin, and Chelsea Crowell singing with their dad.
As an aside, I had walked away from radio and new music back when the airwaves and the industry began to swing away from art. Then one day I discovered Rodney Crowell on a late night local music show. It made me take notice and he introduced me to Americana. I owe all my music sense to him. If you follow my trail back it leads right into "Fate's Right Hand". How poetic is that! All these years later he's reminding me Christmas is still there. You just need to dig a bit more.
Christmas Everywhere was produced by Dan Knobler. This is a Christmas album for the ages. Enjoy it. May it bring you peace.
• Viola Krouse
[amazon_link asins='B07H5VTBCW,B07D2XKQXL,B01N1UN4OF,B00WYE6QRQ,B000G03RI6,B00138H8V2,B000055ZF2,0307740978,B000A2EKLI' template='ProductCarousel' store='maasc-20′ marketplace='US' link_id='1901bdd9-0342-11e9-962d-39a278e0581d']