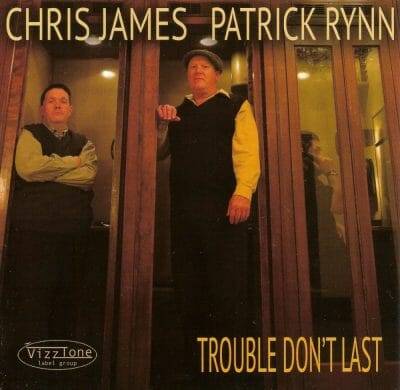 Chris James Patrick Rynn
Trouble Don't Last
Vizztone Label Group
Chris James and Patrick Rynn have been playing together for some twenty five years. They even spent five years together in The Sam Lay Blues Band and appear on his live album "Feelin Good". In 2008 they recorded their debut "Stop And Think About It" on the Earwig Music label. That album garnered them a 2009 Blues Music Award nomination for "Best New Artist Debut" and they won the Blues Blast award in the same category. Patrick Rynn is also a six time Blues Music Award nominee for Best Instrumentalist – Bass.
The band on "Trouble Don't Last" consists of James, vocals and guitar; Rynn, bass; Rob Stone, harmonica; Aki Kumar, harmonica; and June Core, drums. Harmonica ace Rob Stone first met James and Rynn when they were all members of The Sam Lay Band and they have been musical collaborators since. James and Rynn are also regular members of The Rob Stone Band. Core has formerly played with Little Charlie and The Nightcats and is currently the drummer in The Charlie Musselwhite Band.
James, Rynn and Stone have co-written six new songs for this recording. James states that the opening track "Shameless" is a "commentary on people who take themselves too seriously." Stone is on harp. On "Going Down to The Ocean" Kumar is playing the harp. The instrumental "Steady Goin' On" has both harp players going at it. The title track "Trouble Don't Last" features James on guitar. Ensemble playing and storytelling are the essence of Chicago Blues and my favorites are "A Good Idea At The Time" and "Hard to Keep A Dollar".
James and Rynn have also included four older chestnuts. "Lilly Mae" is from Calvin Frazier. "Lonesome Whistle Blues" is an old Freddie King tune originally waxed in 1961; and featured here with both harpists. "Don't Drive me Away" was written by R.C. Smith but recorded by Charles Brown; while "Roll, Tumble and Slip" is Sunnyland Slim's version of the traditional "Rollin' and Tumblin'. On the later we once again get to hear both Stone and Kumar.
Core may be the most in demand session drummer working today. He and bassist Rynn supply the steady foundation that enables guitarist James and both harpists. This is one of the best Chicago Blues albums so far this year.
Richard Ludmerer
https://open.spotify.com/album/1TCSXNnWdjw5PA44uKKFNf