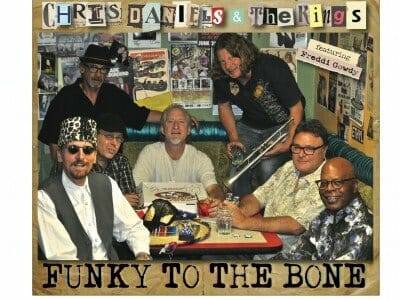 Chris Daniels & The Kings
Funky To The Bone
Independent
Chris Daniels formed his first band "Spoons" in 1981. He started the concert series at the Sheridan Opera House in Telluride Colorado in 1983. Spoons as he is sometimes called formed the Chicago styled horn band Chris Daniels and The Kings in 1984. The Kings have backed many artists including Al Kooper¸ Bo Diddley, John Cowan, Francine Reed, and Percy Sledge. This is Daniels sixteenth recording.
Daniels and Freddi Gowdy started performing together in 2011. This collaboration showcases the "Kings" fabulous horn section in a robust "Sam and Dave" performance setting. Colorado's Gowdy was formerly lead singer of the funky Freddi Henchi Band. His ex-partner Marvin Henchi Graves passed away in 2009.
The band consists of Daniels, guitars and vocal; Gowdy, vocals; Randy Amen, drums and vocal; Kevin Lege, bass and vocal; Colin "Bones" Jones, lead guitar; Jim Waddell, sax and vocal; and Darryl Abrahamson, trumpet and vocal. Additional musicians include Billy Payne, piano and B-3; Christian Teele, percussion; Darren Kramer, trombone; Rob Rebholz, tenor sax; Carlos Chavez, baritone sax; and background vocalists Hazel Miller, Coco Brown, Carl Carwell, and Chris Kimmel. The horn arrangements are by Kramer and Rebholz.
The opening title track "Funky To The Bone" features the vocal duo of Daniels and Gowdy on the verse, and everyone chiming in on the chorus "funky, funky, funky to the bone". It is written by Gowdy and Larry Wilkins who also contribute the fabulous "Don't Let Your Mouth Write No Checks Your Booty Can't Cash".
Chris Kenner's "Something You Got", "makes me work all day" which was originally released on Eddie Floyd's "Knock On Wood" album back in 1967 is my favorite on this exuberant set.
Daniels has written both "Cool Breeze" and "Birthday Suit", while he and Gowdy collaborated on "Survivors".
If you find the idea of "Sam and Dave" meets "Tower of Power" interesting; then this album is definitely for you.
Richard Ludmerer