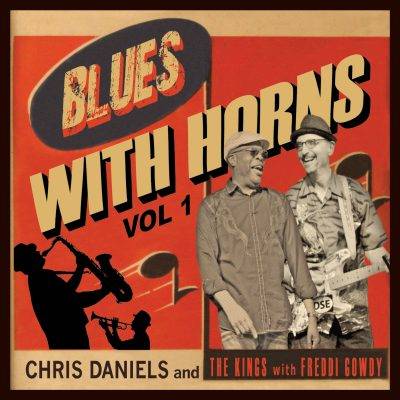 Indie Blues CD Review
Chris Daniels and The Kings with Freddi Gowdy
Blues With Horns Vol 1
Moon Voyage Records
Chris Daniels formed the Chicago styled horn band Chris Daniels and The Kings in 1984. The Kings have backed many artists including Bo Diddley, Percy Sledge, Al Kooper, and Francine Reed. Daniels and Freddi Gowdy started performing together in 2011. Their last album 2015's "Funky to the Bone" was a robust "Sam and Dave" styled performance.
The band still includes Daniels, guitars and vocals; Gowdi, vocals; Colin "Bones" Jones, lead guitar; Kevin Lege, bass and vocals; Randy Amen, drums and vocals; and the horn section of Jim Waddell; sax and vocals; and Darryl Abrahamson, trumpet and vocals. Guesting are Sonny Landreth, slide guitar; John Magnie from the Subdudes, keyboards; Doug Krause, keyboards; Clay Kirkland, harmonica; Bob Rebhoz, tenor sax; Daren Krammer, trombone; and vocalists Hazel Miller, Coco Brown and Jacob Davis. The horn arrangements are by Rebhoz and Krammer.
Written by Daniels "Sweet Memphis" is a shuffle inspired by Lowell George of Little Feat. It features Landreth on slide and the fabulous horns.
"Fried Food/Hard Liquor" is a greasy groove written by blues singer Rex Peoples a 2016 IBC semi-finalist representing the Colorado Blues Society. Daniels and Gowdy trade verses as they share the lead vocal. Kirkland, a Denver based harp player, adds the finishing touches.
"Get Up Off The Funk" is an original from Gowdy written when he was lead singer of Freddi/Henchi And The Soul Setters. This is a James Brown styled tune that will make you want to get up and dance. The horns are the icing on the cake.
"Soothe Me Baby" a.k.a. "Soothe Me" written by Sam Cooke was a 1967 single on Stax Records by Sam and Dave. The Kings version is equally fabulous. Miller and Brown join in on the chorus.
"Wouldn't Treat A Dog (The Way You Treated Me)" is the Bobby "Blue" Bland standard first recorded by him in 1974. Kirkland's harp and the horns furnish the heat on this version.
"You Can Stay But That Noise Must Go" is the first of two songs from Johnny "Guitar" Watson. Originally a 1977 single for Watson on Fantasy Records; it was also the opening track on Walter "Wolfman" Washington's 1988 album "Out of The Dark". The other funky tune from Watson is "Baby's In Love With The Radio".
"Can't Even Do Wrong Right" written by Elvin Bishop, won Bishop a Blues Music Award for 2015 "Song of The Year". The Kings version gives it a New Orleans' twist.
"Them Changes" from Buddy Miles was the title track off of his 1970 Mercury Records album. The Kings version is as exciting as the original.
The closer is "Rain Check" featuring Daniels on acoustic guitar accompanied by Magnie on piano and Kirkland on harmonica.
Daniels states that the album is dedicated to "Mamie Smith, Albert King, Al Kooper, Bobby "Blue" Bland, Johnny Taylor, Koko Taylor and all those remarkable men and women who recorded with killer horn sections that I listened to as a kid".
The album's design by artist Greg Carr is deserving of an award as is this recording. This is the best we have ever heard from Chris Daniels and The Kings.
Richard Ludmerer
[amazon_link asins='B074QVQ1SB,B00W8C5C92,B00004YLDK' template='ProductCarousel' store='maasc-20′ marketplace='US' link_id='850b88ff-bb21-11e7-8612-450d01b72af2′]