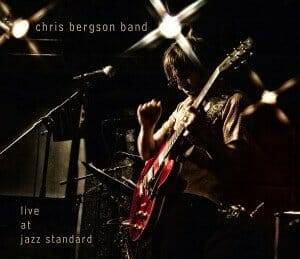 Chris Bergson Band
Live at Jazz Standard
2 Shirts Records
Chris Bergson was born in New York but spent his formative years in Somerville, Ma. He returned to Manhattan in 1995 and began his career as a sideman for Jazz singers, including Annie Ross and Norah Jones. He embraced the blues but added his own artistic touches.
Bergson's music draws from blues but also from country, folk, soul and jazz. Bergson has shared the stage with luminaries Levon Helm, Hubert Sumlin and B.B. King.
In 2007 Bergson scored big with his 5th recording, the widely acclaimed "Fall Changes". Recorded at the Levon Helm Studios in Woodstock, N.Y. the album established Bergson as an evocative songwriter. He followed up with 2011's "Imitate the Sun".
This is his seventh album and his first live album. Recorded at New York City's Jazz Standard, the band is Bergson, vocals and guitars; Craig Dreyer, organ; Matt Clohesy, bass; and Tony Leone, drums and backing vocals. For this event Bergson has added the horn section of Ian Hendrickson-Smith, baritone sax; David Luther, tenor sax; and Freddie Hendrix, trumpet.
For those who have never heard Bergson this set will also serve as a career retrospective. Bergson opens with "Greyhound Station" from his 2005 "Another Day" cd; and it features Bergson's whiskey soaked vocal, driving guitar and some great sax from Hendrickson-Smith. Also from that early album is "High Above the Morning" with a fabulous guitar solo. From "Imitate the Sun" Bergson reprises "Mr. Jackson"; this is rhythm and blues with a great horn arrangement from former band member Jay Collins.
Included also are eight new Bergson originals. "The Only One" was co-written with Kate Ross and Ellis Hooks. Hooks is featured on the Otis Redding styled vocal with a Stax-like horn arrangement from Collins. "Heavenly Grass" features the lyrics of Tennessee Williams set to Bergson's music and acoustic guitar. "Bluemner" with Bergson's solo slide guitar, the folksy "Chloe's Song", and "61st and 1st" were also written by Bergson. The later features Dreyer on organ. "Sometime It's You" and "Christmastime in Bethlehem" are co-written with Dreyer, who also contributes "Just Before The Storm".
Also covered are "Baby I Love You", which is performed here as an instrumental; and the traditional "Corinna" with horns arranged by Henrickson-Smith.
Bergson closes the set with two songs from "Fall Changes"; "The Bungler" and "Gowanus Heights".
From time to time the band reprises this set by re-appearing at the Jazz Standard. I am looking forward to seeing them there soon. This is a great recording.
Richard Ludmerer