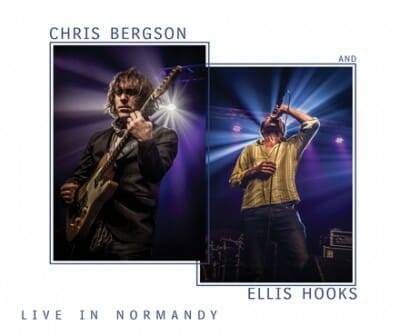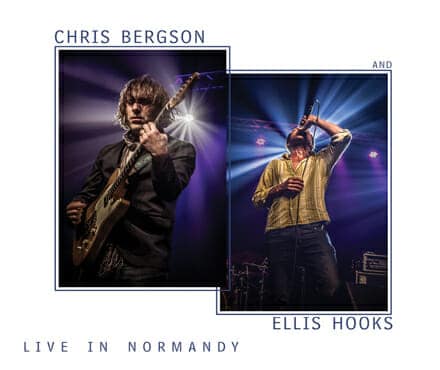 Chris Bergson and Ellis Hooks
Live in Normandy
2 Shirts Records
New York born Chris Bergson grew up in Somerville, Ma. He began taking guitar lessons at a young age and developed his appreciation for jazz and blues. He listened to everything from Muddy Waters to Miles Davis. Bergson moved back to New York City and began to sit in on jam sessions at Smalls Jazz Club. From 1996 until 1999 Bergson studied at The Manhattan School of Music with guitarist Rodney Jones. He began a career as a sideman for Annie Ross and Norah Jones, embracing the blues, but adding his own artistic touches. Bergson released his fourth recording "Another Day" in 2005, establishing himself as a songwriter. His original music draws from blues and jazz, but also from country, folk and soul. He shared the stage with Hubert Sumlin and B.B. King. In 2007 Bergson scored with the highly acclaimed "Fall Changes" recorded at The Levon Helm Studios in Woodstock and later followed up with 2011's "Imitate The Sun"; both albums mixing originals with covers from Bob Dylan, Jimi Hendrix, Elmore James and Willie Dixon.
Ellis Hooks has seven albums of his own, and has been called "The Godson of Soul". In 2004 he received a Blues Music Award nomination in the category of Best Emerging Artist for his Evidence Records album "Up Your Mind". Around that time Bergson and Hooks shared a bill, and began to occasionally work together. Bergson states "I was immediately blown away by his intensity of singing and his incredible groove. We talked …about getting together". Bergson invited Hooks to guest on his 2014 album "Live at Jazz Standard" and again on 2017's "Bitter Midnight".
"Live In Normandy" is both a CD & DVD. The band includes Bergson, guitar and vocals; Hooks, vocals; and The French Connection consisting of Philippe Billoin, keyboards; Philippe Dandrimont, bass; and Pat Machenaud, drums. The album is both a live retrospective and a video that documents the excitement of a Bergson/Hooks concert.
Bergson opens with some fine guitar as he takes the vocal on "61st and 1st". It is the first of three songs written by Bergson with his regular writing partner Kate Ross. The song first appeared on 2017's "Bitter Midnight". Bergson, speaking in French, then introduces Hooks before they reprise their co-written tune "Knuckles & Bones" from the same album. Hooks is an exciting performer as he grabs the mike stand and prances around the stage like Mike Jagger. They immediately go into the Stax-styled "The Only One" written by Bergson with both Ross and Hooks from the "Live At Jazz Standard" album. Next is "Bitter Midnight" a vocal duet between Bergson and Hooks and the title track to the same named recording; the band is up to the task with some great keyboard work from Billion, as Bergson takes some Steve Cropper type leads. "55 Miles From Bromley" is a new song written by Bergson and Hooks; Hooks once again proves himself an exciting performer. Bergon's guitar opens "Greyhound Station" reprised from 2005's "Another Day" and it rocks.
Selected covers include Sam Cooke's "Somewhere There's A Girl" beautifully sung by Hooks; the song was first released in 1962 by the Valentinos a.k.a. The Womack Brothers. "Heavenly Grass" is a Tennessee Williams poem with a delta blues groove arranged by Bergson. "Grits Ain't Groceries" was popularized by, and a 1969 single sung by Little Milton. "Nobody's Fault But Mine" written by Otis Redding appears on his 1968 posthumous album "The Immortal Otis Redding". The closer is the traditional "Corinna" first recorded in 1928, and popularized forty years later by Taj Mahal.
The DVD is especially nice as it documents their exciting stage performance. Bergson and Hooks prove they are festival headliners. This treasure should not be missed.
Richard Ludmerer