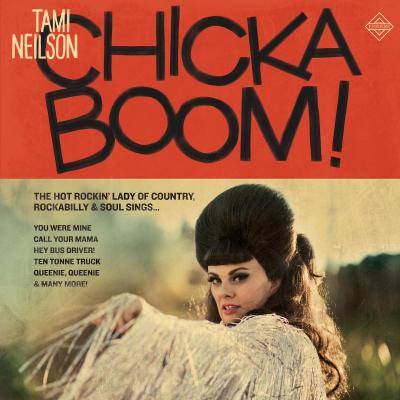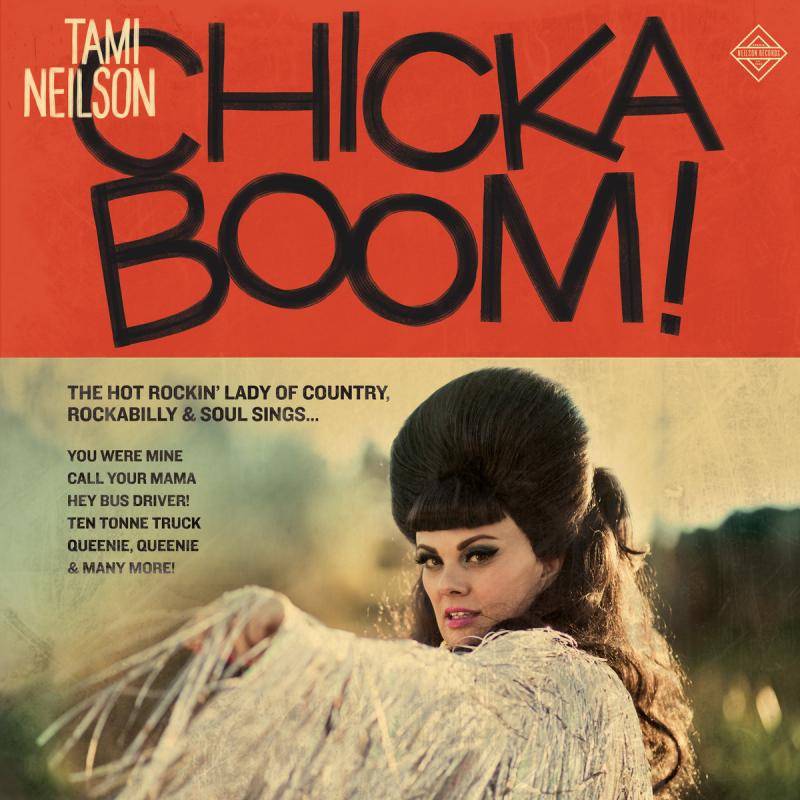 Chickaboom
Tami Neilson
Outside Music
Canadian-born, New Zealand-based vocalist Tami Neilson releases Chickaboom! through Outside Music on February 14, 2020. Valentines Day! What's not to love about that! Chickaboom! is revivalist rockabilly with clickety-clack percussion and a stomp-n-holler groove. With a vocal range that sways and phrasing that evokes artists like Amy Winehouse, St. Paul and the Broken Bones, Patsy Cline and Brenda Lee, Tami Neilson can S.I.N.G.
These songs speak volumes which lands Tami Neilson into singer-songwriter territory. The song "Queenie, Queenie" with my favorite line, "cause they won't play a lady-o on country radio" shows that Tami is a brilliant lyricist. But unlike the quiet coffeehouse image that name evokes, Tami would stand out like a flamboyant thumb. These songs rock, they sometimes roll, and they certainly shake. Is it rockabilly haiku? Perhaps gospel, surfer, balladeer? One look at her piled high beehive and even longer eyelashes, and you'll want to try to categorize her style, but that would be a mistake. Tami Neilson is her own brand of vintage. Once you forget about genre, you'll hear the music for what it is, good. Really good!
This album rocks! Even better, the songs are well crafted which means they will have perhaps more impact stripped down to limited instrumentation. The lyrics and vocals will shine in any presentation. And that's exactly what Tami was going for when she wrote these songs. She succeeded.
Family is important, especially to a traveling musician. Tami Neilson grew up making music with the touring Neilson Family Band. She missed that family dynamic on the road, so for Chikaboom! Tami Neilson invited her family to record with her. The undeniable sibling harmony is beautiful. Tami and her brother Jay Neilson provide vocals and rhythm guitars on the album. Jay also plays bass. Delaney Davidson plays lead guitar, Bret Adams plays lead on "You Were Mine". Joe McCallum provides drums and percussion. Delaney provides guest vocals on "Tell Me That You Love Me", and six-year old Charlie and four-year old Sam provide guest vocals on "Queenie, Queenie.
Some of the accolades and accomplishments that Tami Neilson has received include; Best Female Artist, Best Country Album, Best Country Song, an APRA Silver Scroll (songwriting) award and Album of the Year nominations. Her Dynamite! album of 2014 received rave reviews in Britain's MOJO and the Guardian named it a Top 10 Best Country Music Album. Tami's songs appeared on the Netflix series Wanted and the terrestrial TV series Nashville.
I had not heard Tami Neilson prior to this album. I was immediately smitten and I'm quite sure you will be as well. Happy Valentine's Day! You'll love this album.