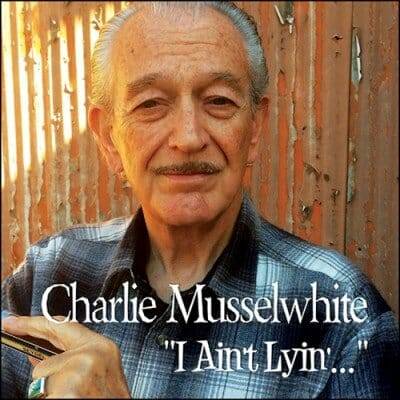 Charlie Musselwhite
"I Ain't Lyin'…"
Henrietta Records
Charlie Musselwhite, harp and vocals, was born in Kosciusko, Mississippi in 1944. His parents moved the family to Memphis where he acquired the nickname "Memphis Charlie". He moved to Chicago's South Side and continued his musical education from mentors Junior Wells, Little Walter and Big Walter Horton. Musselwhite befriended John Lee Hooker who also served as best man at his wedding.
Musselwhite's first recording was Vanguard Records 1966 "Stand Back! Here comes Charley Musselwhite's Southside Band". That band included Fred Below, drums; Barry Goldberg, keys; and guitarist Harvey Mandel. Musselwhite has accumulated 48 Blues Music Award nominations and won 31 times. He won the 2015 BMA for Best Instrumentalist-Harmonica and that was the 16th time he won that award. Musselwhite was also a 2010 Blues Hall of Fame Inductee. Now 71 years old Musselwhite has played harp with everyone from The Buena Vista Social Club to The Grateful Dead.
This is Musselwhite's 30th recording. Musselwhite calls his current band lineup the best he's ever had. They are June Core, drums; Steve Froberg, bass, and guitarist Matt Stubbs. This album was recorded live in September and December 2014.
Musselwhite opens the set with a promise that there will be "Good Blues Tonight". He then does a great version of Elmore James' "Done Somebody Wrong". Musselwhite's songs include two with similar titles; "Long Lean Lanky Mama" and "Long Leg Woman". On these and throughout the recording the rhythm section of Froberg and Core lay the strong foundation that enables Musselwhite to solo.
Musselwhite's set becomes a "best of Charlie" as he recreates "If I Should Have Bad Luck" from his 1993 "In My Time" recording. He also reprises "Blues, Why Do You Worry Me" from Telarc's 1999 Superharps album which also featured James Cotton, Billy Branch, and Sugar Ray Norcia. I have an appreciation for a good guitarist and Stubbs is among the best as he helps set the rhythm before soloing.
No live Musselwhite set would be complete without including "Cristo Redentor". This instrumental appropriately credited to its composer Duke Pearson was originally written for trumpeter Donald Byrd. Musselwhite's rearranged version has become his signature song.
Musselwhite closes with another version of "Good Blues Tonight", the song that opened the album. Throughout the album Musselwhite's harp solos and distinctive vocals are just as exciting as ever.
Musselwhite stands as one of the greatest harp players of our generation. Fans are going to want this cd to complete their collection.
Richard Ludmerer