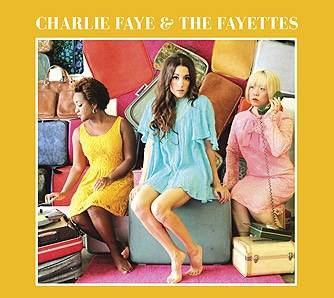 Charlie Faye and The Fayettes have effectively conquered time travel in this self-titled album. The proof is that if you heard these 11 original songs and did not know it was a contemporary group, you could honestly believe you were listening to a girl group of the 60's. Even the album cover is just right.
Charlie Faye has a charming voice for this type of sound but it is obvious from the first song, "Green Light," that what sells the concept is the way her voice combines with the spot-on harmony of Betty Soo and Akina Adderley as background singers. There is a subtle difference in the message here, as these girls are a bit more liberated than the girls of the 60's. But the songs all deal with love and heartbreak. Some things never change, but it is all delivered with a bouncy beat that promises that things are always looking up..
There are many obvious influencs here, from Martha Reeves and The Vandellas, The Supremes to Jackie DeShannon, Dusty Springfield. and Dionne Warwick. The Burt Bacharach sound that added a bit of grown-up emotion to pop music shows up in "Carelessly," but mostly it's Motown and Stax, The Ronettes, The Crystals, and all those other sweet and harmonious groups that Faye and The Fayettes channel so pleasantly here.
The ace band that backs the girls up should be mentioned. Elvis Costello drummer Pete Thomas, keyboardist Roger Manning and guitarist Tony Gilkyson, along with Faye's husband Eric Holden on various instruments provide just the breezy, uncomplicated yet perfectly executed accompaniment . Charlie Faye and The Fayettes are perfect summer listing. . You will enjoy them, and you may even be inspired to check out some of the great female singers and groups that inspired them.