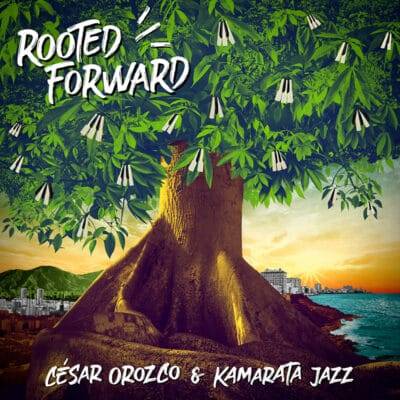 Cesar Orozco & Kamarata Jazz
Rooted Forward
Self-released
Rooted Forward is the fourth album from César Orozco and Kamarata Jazz. A pianist, composer, arranger, and educator (who just so happens to be a classically trained violinist, too!), Orozco has always celebrated the rich musical traditions of Cuba and Venezuela, the two places that most greatly informed his musical education and upbringing. This continues to honor those musical legacies but also branches out into some new directions too. Of the nine cuts, eight are originals, with seven written by Orozco and the title track by his co-producer and Kamarata Jazz's electric bassist, Padilla.
The lengthy credit list has 17 musicians, including saxophonists Antonio Luis Orta and the Grammy-nominated Troy Roberts, trumpeters Tyler Mire and Alex Norris, trombonist Luke Brimhall, acoustic bassist Gabriel Vivas, percussionists Roberto Moreno, Pablo Bencid, Fran Vielma, and Diego "El Negro" Alvarez; and Jorge Glem on the four-stringed Venezuelan cuatro. While the album is rooted in traditional rhythms and genres such as danzón, son, chachachá, joropo, Venezuelan waltz and merengue from Venezuela and Cuba, it also includes contemporary harmonies, melodies, odd meters, improvisation, and unusual instrumentations. Hence, the album's ostensibly contradictory title.
The opener, "Heavy Wave," is rhythmically unique, blending Brazilian bossa nova with Venezuelan joropo. The powerful horn section—consisting of two trumpets, tenor and alto saxophones and trombone—is the tune's principal driver, especially when Padilla plays is unison with the brass instruments, but the unexpected contrast is Orozco on Fender Rhodes and Glem on cuatro. The next two cuts, "Como Dice Danilo" and "Chacha Para Purri" are for Orozco's father and mother, respectively. The one for his dad, Danilo, who's considered to be one of the most respected musicologists in all of Latin America, is a mix of Cuban son and danzón, featuring Marcial Istúriz on lead vocals and Zamira Briceño and David Alastre on harmonies. Roberts, on soprano saxophone here, plays beautifully in unison with Orozco in the composition's first half, then shines brightly as a soloist in the hip-shaking second half. Though his mother is not a musician by trade, but rather a dentist, Orozco touts her intuitive sense for music and "impressive ear," and is careful not to disappoint her with a languid, flowing chachachá in 7/4 that notably showcases two impressive runs on soprano saxophone from Orta.
The title track fuses elements of Venezuelan joropo with popular elements of flamenco music. Troy Roberts is featured once again, marking his first appearance on tenor sax with a solo of gradually building in intensity matched only by Alvarez's turns on the cajón. Roberts returns on tenor for on "Spiral City," a recursive, delirium-inducing tune that, like the city to which it is dedicated, New York City, is at times disorienting but brimming with bustling energy. Combined with the next track, "Volao Rumba," a guaguancó written in 7/4, this two-tune section, says Orozco, constitutes the album's most musically complex section. Before these two frenetic pieces we get an ode to Venezuela in "Tierra Valiente," a peaceful and melodic waltz with hints of Chick Corea-type phrasing that is, by turns, wistful, melancholic, and hopeful.
"Sueño y Anhelo," the only non-original on the album, is a polo Margariteño, a traditional folk song from eastern Venezuela that seems to build an entire world and tell its entire story all within six-and-a-half minutes. After an ethereal first instrumental act, Natasha Bravo sings lead vocals and is accompanied poignantly by Orozco and Glem.
Orozco summons his bursting energy again in the closer, "Con Mi Tambor," a Cuban guaguancó suffused with Afro-Venezuelan rhythm featuring brilliant solo work, once again, from Troy Roberts and unique percussive stylings from Fran Vielma. The finale sees 14 of the 17 musicians returning, where Orozco's ebullient vocal exhortations amplify the vigor of the piece.
César Orozco and Kamarata Jazz prove that a heart for tradition and a head for innovation are not irreconcilable musically. Orozco uses this analogy: "The old and beautiful tree of your garden which has long and deep roots growing down, suddenly starts giving you a new, delicious and different type of 'fruit' because of a special 'fertilizer' you started using to take care of it. The tree has evolved to a new kind of tree, one that will continue to surprise you even more in the future with lots of new and different 'fruits.'" To be sure, it's primarily Latin Jazz or maybe to use another analogy, a stew with core Latin Jazz ingredients infused with unexpected spices and a few morsels you weren't expecting.
Jim Hynes