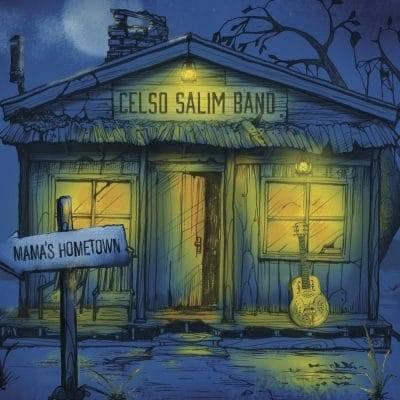 Celso Salim Band
Mama's Hometown
Tower High Music
Based in Southern California for the past four years, Brazilian guitarist Celso Salim and his band introduce their first album recorded here in the states. This is deep blues, not Brazilian music, and it's fused with elements of soul, country, jazz and rock. There are eight originals and a version of a traditional gospel tune, "In My Time of Dying."
Salim gets plenty of help from Brazilian singer Rafael Cury on lead vocals, producer/bassist/harmony vocalist Mike Hightower, Lynn Coulter on drums/harmony vocals, Dave Fraser on keyboards, with Salim on guitar and dobro as well as some lead vocals. Special guests include Darry Carriere on harmonica, Mo Beeks on Hammond B3 and Minque Taylor on harmony vocals.
Salim and his band are not newcomers to the blues. In Brazil, Celso has released five solo albums since 2001. He came along in time to tour with legends B.B. King, John Hammond, Magic Slim and Willie "Big Eyes" Smith. The album's title track recently won the 2018 Independent Music Awards – Vox Pop in the R&B/Soul song category and the song "locked Out in Misery" was a finalist in the Blues Song category at the 2018 International Songwriting Competition. His band has won the Southern California Blues Society Battle of the Bands in 2015 and 2017. They were semi-finalists in the IBC in 2018. These are only a few of the awards they've won.
Salim plays a nasty slide on the opening track, "Mad Dog." The blues harp -driven "Locked Out in Misery" is straight out Chicago blues. "Let It Burn" has the John Lee Hooker boogie as it begins before becoming a vehicle for Salim's explosive guitar along with impressive piano from Fraser. As the title suggests "No Need To Be Alone" is a smoldering slow blues, indicating how well Salim has a feel for the "less is more" approach. Naturally, we get an incendiary solo from Salim here. The acoustic "Down the Aisle" and to even greater extent the title track are vehicles for Salim's dobro. There's also some nice ragtime-like piano from Fraser in the former.
"Best of Luck" takes a B.B. King slow is better approach, again featuring Fraser's piano and this time an economical solo from Salim. They close acoustically in gospel fashion with the traditional "n My Time of Dying" (aka Blind Willie Johnson's "Jesus Gonna Make Up My Dying Bed), another tune spotlighting Salim's dobro.
There's no new ground broken here, just solid, on cue, in-the-pocket playing from a band that understands the blues.
[amazon_link asins='B07DNQZYV1,B01DEBMK04,B07DNSMB68,B07DNS97S3,B07DNS15F7,B07DNRM4CT,B07DNRLBVK,B07DNR98G6,B07DNQVHJF' template='ProductCarousel' store='maasc-20′ marketplace='US' link_id='87e005a1-c0d6-11e8-88bf-9730f14b73bc']