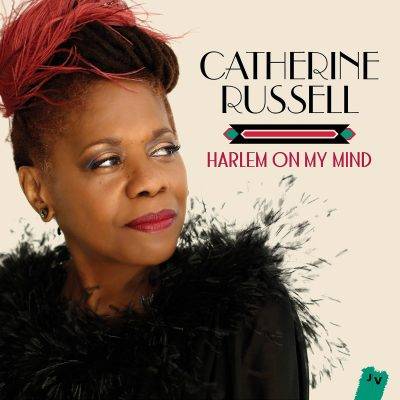 Catherine Russell
Harlem On My Mind
Jazz Village
Catherine Russell is a jazz singer with a blues heart. Her appreciation for blues can be found in her song selection and passionate intonation. Russell is the daughter of Luis Russell the musical director for Louis Armstrong. Her father passed when she was very young and she was raised by her mother Carline Ray, a pioneering bassist and vocalist, who played with the International Sweethearts of Rhythm, Mary Lou Williams, Sy Oliver, and Wynton Marsalis. As a background singer Russell appears on over 200 albums by artists like David Bowe, Paul Simon, Cyndi Lauper, Rosanne Cash, and Steely Dan.
Russell is influenced "by old time blues and jazz singers like Bessie Smith, Ruth Brown and Etta James as well as…Nancy Wilson and Abby Lincoln". Her voice has the power and complexity that enables her to be uniquely expressive. Russell's 2006 debut recording "Cat" on World Village Records received rave reviews and paved her way for 2008's "Sentimental Streak". Russell's third album 2010's "Inside This Heart of Mine" reached #1 on most Jazz music charts. 2012's "Strictly Romancin", her fourth album, was awarded Vocal Album of The Year by the French Jazz Academy. Russell won a Grammy as a featured artist on the HBO-TV soundtrack for "Boardwalk Empire". "Bring It Back" her 2014 recording received a five-star rating in Downbeat magazine.
This is Russell's sixth album. The band includes Russell, vocals; musical director Matt Munisteri, guitar and banjo; Mark Shane, piano; Tal Ronen, bass; Mark McLean, drums and a six piece horn section with arrangements by saxophonist Andy Farber.
The title track "Harlem On My Mind" was written by Irving Berlin for the 1933 Broadway revue "As Thousands Cheer"; a satire on the news of the day. Sung by Ethel Waters it became a classic. Opening with Shane's piano Russell's voice has a special clarity as she references Cab Calloway.
"I Can't Believe That Your in Love With Me" is a 1926 song composed by Jimmy McHugh, with lyrics by Clarence Gaskill. It was recorded by Ella Fitzgerald in 1941. The horn arrangement by Farber features trumpeters Jon-Erik Kelso and Alphonso Horne, trombonist John Allred and the saxophones of Mark Lopeman, Dan Block and Farber.
"Swing, Brother, Swing!" was recorded by Billie Holiday with The Count Basie Orchestra in 1937. Russell's version features another great horn arrangement with Allred, Lopeman and Farber.
"The Very Thought if You" was written by Ray Noble in 1934. It's been recorded many times. In 1946 it was recorded by Luis Russell. In 1950 it was recorded by Doris Day; and in 1962 it was recorded by both Frank Sinatra and Ella Fitzgerald. A blues version was waxed by Little Willie John in 1961.
"You've Got The Right Key But The Wrong Keyhole" was written by Clarence Williams and Eddie Green and first recorded by Virginia Liston in 1924. Munisteri is featured on the tenor banjo.
"Don't Take Your Love From Me" is from Henry Nemo and originally recorded by Mildred Bailey in 1940. This is another beautiful vocal from Russell this time featuring one hundred year old Fred Staten with a tenor sax solo.
"Blue Turning Grey Over You" is a 1929 Jazz standard written by Fats Waller and recorded by Louis Armstrong. Shane is featured on piano with Munisteri on guitar.
"You're My Thrill" is a 1933 song composed by Sydney Claire and Jay Gorney and recorded by Billie Holiday in 1950. The moody horn arrangement features Block on the clarinet.
"I Want a Man" written by Herman/Chessler/Merrof was recorded by Lillian "Lil" Green in the late 1940's. Russell's vocal is timeless. Once again Shane's piano is delightful.
"When Lights are Low" was authored by trumpeter Benny Carter and first recorded in 1936. Once again Russell's vocal, the horn arrangement and overall production are perfect.
"Talk To Me, Talk To Me" from Joe Seneca was recorded by Little Willie John in 1958. This is a great version of a great song.
"Let Me Be The First To Know" co-written by Leroy Kirkland, Pearl Woods, and Dinah Washington; was first recorded by Washington in 1962. Munisteri's guitar and the horns once again decorate Russell's fabulous voice. Farber's sax solo is outstanding.
This is early Jazz that is exciting and vibrant as brought to us by the incomparable Russell. Expect to be thrilled.
Richard Ludmerer