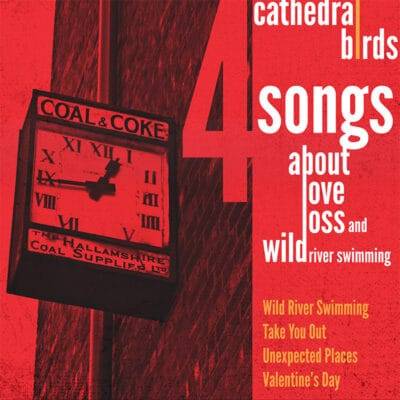 Cathedral Birds
4 Songs About Love, Loss and Wild River Swimming
Cathedral Birds are the songwriting duo Brandon Petty and Rick Baines based in Sheffield, UK, who decided after twenty years of friendship with numerous visits to gigs and festivals it is now time to make your own music.
That was in 2019 and in March 2020 they had their first gig, which unfortunately developed into the Corona super spreader event and had devastating consequences, both for members of other bands and for the key player of Cathedral Birds.
Out of this difficult situation, the band's second EP, "Songs About Love, War and Pandemics" was born.
In 2020 the Cathedral Birds singer contributed a chapter to a new book about his early mentor Dave Godin, the man who coined the phrase Northern Soul, compiled the Kent Records Deep Soul series and introduced Mick Jagger to the blues!
"Wild River Swimming" is a song about friendship, about common experiences as teenagers and a wonderfully melodic song with great choruses, sensitive lyrics, a bit melancholic and yet uplifting, a more than successful entry into the EP!
"Take Me Out"
"We are unemployed, our credits void, but we will never be destroyed."
A positive song in difficult times that shows us that you shouldn't let yourself get down, no matter what. Also here is a rather calm song that perfectly reflects the harmony that this duo exudes.
"Unexpected Places", a song about loss and a new beginning without a partner, pure heartbreak but not kitschy on the contrary, here too it is more of a positive song with wonderful lyrics, one of my favourites!
"Valentines Day", a love song with a surprising twist at the very end that I didn't expect, you definitely have to listen to the song until the end and listen carefully. It's heartbreaking, so sad and yet so beautiful!
With this EP the "Cathedral Birds" really did something great! Songs that show that topics can be conveyed positively without being loud. On the contrary, it's the quiet that makes this album so pleasant. Something that you don't hear in passing but that still reverberates and occupies you for a while after hearing it.
The sound, the vocals, the instruments, everything is perfectly staged, crowned by the harmony between the musicians that I already mentioned. I very much hope that we will hear more and that as soon as possible!