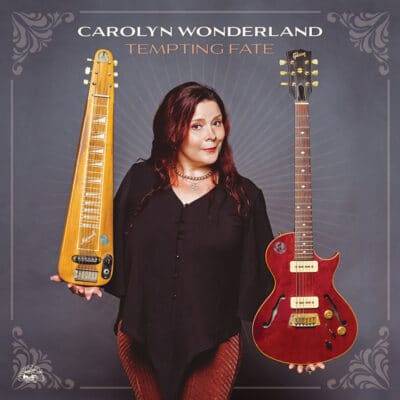 Carolyn Wonderland
Tempting Fate
Texas blues sensation Carolyn Wonderland has certainly been on the fast-track these past few years. After holding a highly-coveted spot as guitarist in John Mayall's Bluesbreakers, a position previously held by legends such as Eric Clapton, Peter Green, and Mick Taylor, Wonderland signed to the beloved Alligator Records label. That just does not happen by chance. This kind of positioning only happens with talent, and passion, and determination. Tempting Fate, Wonderand's twelfth album quickly stole my heart with her original style of blues. Recorded with Wonderland on vocals, lead guitar, and lap steel, Bobby Perkins on bass guitar, and Kevin Lance on drums, this release also features guest appearances by Dave Alvin, Marcia Ball and Jimmy Dale Gilmore.
Wonderland's ode to current events "Fragile Peace and Certain War" ushers in the album on a swampy wave of lap steel slide guitar. The way she rips into the song with her blunt fearless vocals and guitar is simply magnificent. Enlisting fellow Alligator Records recording artist Marcia Ball to join her on piano for a rollicking country-boogie soaked in cowboy culture called "Texas Girl and her Boots", Wonderland becomes the Texas version of Imelda Marcos when it comes to foot apparel collections. The cover of Billy Joe Shaver's "Honey Bee" is a big ball of fun too, featuring Jan Flemming on accordion. In a classic Nashville country way, Jimmy Dale Gilmore and Wonderland pour their heart and soul into Bob Dylan's "It Takes a Lot to Laugh, It Takes a Train to Cry". Then, for the grand finale, she boldly takes on The Grateful Dead's "Loser". Wonderland's explosion of electric guitar and Joplin-esque howls make for a lush and fierce jam. It's such an intoxicating performance.
This is an album I highly recommend to everyone. Tempting Fate is one of my favorite albums of the year.
Phillip Smith