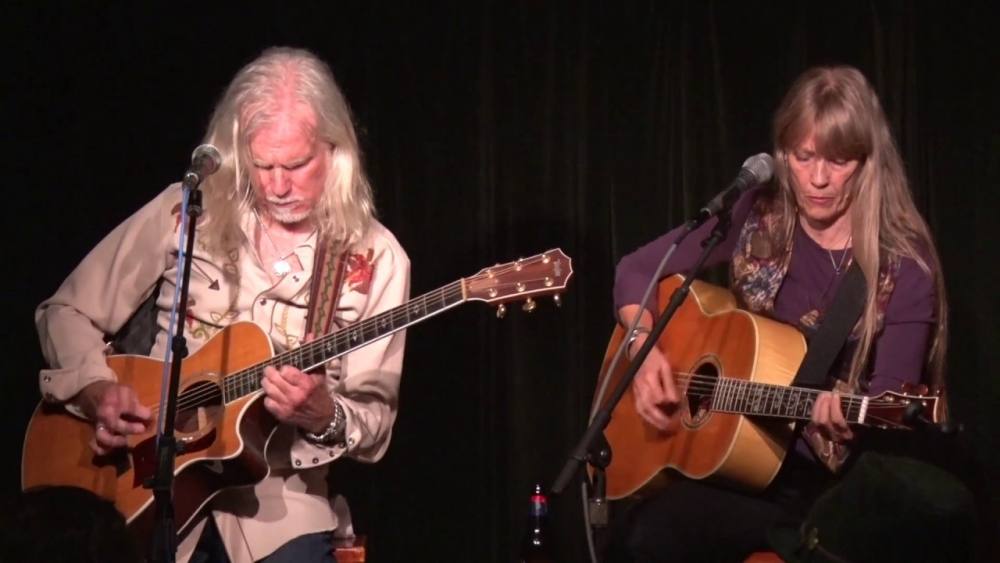 Carla Olson
Todd Wolfe
---
---
---
---
Making a Scene Presents an interview with Carla Olson and Todd Wolfe!
Olson-Wolfe "Live Unplugged" features acclaimed songwriter/producer/guitarist Carla Olson (Textones, Gene Clark, Mick Taylor) and iconic guitarist/songwriter Todd Wolfe (Sheryl Crow, Leslie West). This classic duo will be performing new songs, as well as deep cuts in Roots, Americana, Rock & Roll and Blues. They are currently collaborating on a new record together while performing select shows this summer.
About Carla Olson
Carla Olson is a singer, songwriter, guitar player and producer. Her 1984 debut album, Midnight Mission, was as leader of the Textones and included Gene Clark, Ry Cooder and Don Henley as guests. A few years later Gene and Carla recorded what many view as the first Americana album, So Rebellious A Lover. Since then Carla has released solo albums and a live record with Mick Taylor.
She is one of the few currently active women record producers and includes among her credits Paul Jones, (Manfred Mann), Phil Upchurch, Jake Andrews, Joe Louis Walker, Chubby Tavares and Barry Goldberg (Electric Flag, The Rides).
About Todd Wolfe
In 1979, Wolfe began his career by playing in garage bands. He played at local parties and participated in "battle of the bands" competitions. While still in high school, Wolfe put together his first band. Four years later, he formed his first club band, Nitetrain. The band included Wolfe and fellow Forest Hills residents, drummer Steven Menasche and bassist Emil Samuels. During their first year, the band opened for Albert Collins, Dickey Betts, and Walter "Wolfman" Washington.
Four years later, he formed his first club band, Troy & the Tornados. This band opened for many acts appearing in the metropolitan New York area. These groups included Gregg Allman, The Outlaws, Dickey Betts, Johnny Winter, Robin Trower, and The Neville Brothers.
During his time with Troy & the Tornados, Wolfe continued to sharpen his skills as a guitarist. Because he was focused on developing his virtuosity as a musician, he was reluctant to be the front man for his own bands.
During this same interval, Wolfe met two women who would play pivotal role in his growth as a musician: Carla Olson of the Textones and Sheryl Crow. At that time, Crow was honing her skills while working as an in-studio back-up singer. She was introduced to Wolfe by Stephen "Scooter" Weintraub, who would later manage both artists. From this introduction began a creative relationship that shaped the careers of both artists. In short order, Wolfe and Crow went from collaborating in studio sessions in New York City to the two traveling to Los Angeles, forming a band, and working to earn a record deal.
Although this effort did not result in a record contract for Crow, Wolfe used the opportunity to relocate permanently to Los Angeles, and to revamp his band's line up. Troy & the T's played in "holes in the wall" throughout Southern California. During this time, Wolfe also began to score music for the Playboy Channel. In 1991, Wolfe teamed up with Olson, whom he had met while still in New York. Wolfe accepted Olson's invitation to join her band as lead guitarist, a spot he held for the next two years.
In 1993, Crow offered Wolfe the lead guitar spot in the touring band she was forming to support her debut album, Tuesday Night Music Club. Based upon her earlier work with Wolfe, Crow understood that his dynamic stage presence would bring an additional measure of excitement to her live shows. During the next five years, Crow and her band would sojourn from "all in the van" tours of local establishments to a string of world tours in which they opened for performers such as Bob Dylan, The Rolling Stones, The Eagles, Plant & Page, and Elton John. In 1996, Wolfe co-wrote with Sheryl Crow "Hard to Make a Stand," which appeared on Crow's eponymously titled second album, Sheryl Crow.[3]
In 1995, while a member of Crow's band, Wolfe put together a band which signed with A & M Records. The band, Mojoson, included Wolfe as the lead guitarist, Scott Bryan—a fellow member of Crow's band—on guitar, keyboards and lead vocals, bassist Eric Massimino and drummer Michael Lawrence, who also played for Sun 60. Over a three-year period, the band recorded two studio albums. However, A&M underwent a transition of ownership before the albums were released. Consequently, the label's "takeover" albums went unissued, Mojoson's contract was dissolved, and the band was disbanded.
In 1998, Wolfe left Sheryl Crow's band so that he could focus on a new project. He formed a new band with a varying lineup of players including two former members of Mojoson—Eric Massimino and Michael Lawrence— as well as Rich Pagano, Dave Hollingsworth, and others. Currently, Wolfe's band features drummer Roger Voss and bassist Justine Gardner who replaced Massimino, Lawrence and Suavek Zaniesienko. This lineup recorded Wolfe's sixth (studio) release since leaving Sheryl's band, Stripped Down at The Bang Palace. Wolfe and his band have kept busy with six album releases and over a dozen European tours to Europe in the last ten years.
https://open.spotify.com/artist/7faWIVVJW8TdQfHiCehfzA?si=A9EvqoTvTPCxIM5eeli8Bg