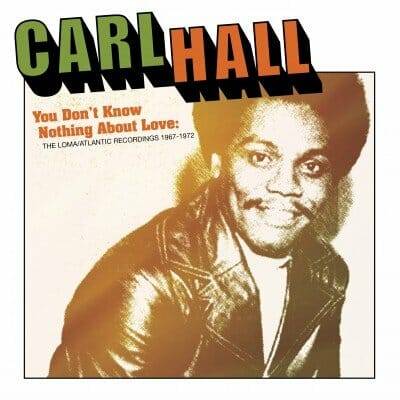 Carl Hall "You Don't Know Nothing about Love: The Loma/Atlantic Recordings 1967-1972" Omnivore Recordings
Carl Hall was a singer, actor, and musical arranger. He was a member of "The Rasberry Singers" Gospel group recording for Savoy. He performed in theatre for three decades beginning with "Tambourines to Glory" in 1963 and on Broadway in the stage production of "The Wiz," amongst other shows. Hall also recorded a series of soul music singles in the sixties and seventies, first for Quincy Jones on Mercury Records. He then teamed with NY producer Jerry Ragovoy waxing a pair of seven-inch singles "You Don't Know Nothing about Love," "Mean it Baby," (1967) and "I don't Wanna Be (Your Used To Be,)" and "The Dam Busted" for the Warner Brothers affiliate Loma Records. Ragovoy also produced another single on Atlantic in 1972 "Need Somebody to Love," flipside was "Change With the Seasons" are all included on this compilation. Thirteen of the nineteen tracks from this recording have never been released, and some include segments of studio chatter, intros of the counting off of songs, and several tracks end abruptly.
The album opens with the Ragovoy penned title track that Hall nails with intense soul emotion; note the uncredited sparse guitar playing and (the not overproduced) horn-chart fills, Ragovoy's powerful lyrics "Did you ever give up all of your pride – just to have her by your side"? Back to the tag-line: "You don't know nothing about love." "Mean It Baby" is (sort-of) bubblegum pop-soul; yet it's catchy and skips-along delightfully. The uncredited "Just like I Told You" is old-school soul with a tasteful dash of funk-fortified horns. Carl Hall's "It Was You (That I Needed)" is deeply soul-drenched; "The Dam Busted" broils with horns and displays Hall's multiple-octave range vocal abilities. The only other Carl Hall tune was co-authored by Hall, with Ragovoy and Van McCoy "I Don't Wanna Be (Used By You)" displays Hall's proud strutting of his vocal soulfulness. The uncredited "Dance Dance Dance" sounds like a work in progress demo. Anthony Newley's "What Kind of Fool Am I" is dressed-up for a late-night club visit that has a smoky vibe. "Sometimes I Do" (also uncredited) is upbeat and builds crescendo for Hall to roar over, but ends abruptly. Hall and company cover the Beatles "The Long and Winding Road" (probably attempting to attract airplay) it's unsuccessful, and falls flat. The prolific and immensely successful Mort Shuman co-authored (with Ragovoy) "It's Been Such a Long Way Home" is well-crafted and also features Gospel like background vocalists. Norman Meade already scored big when The Stones covered his "Time Is on My Side," gets a percolating dressing but sounds like so-so filler. Grace Slick's brother Darby authored "Somebody to Love" changed here to and still credited to Darby Slick "Need Somebody to Love" sounds very different (almost unrecognizable) than the Airplane's version. It's also partially overproduced with strings, but it jabs with solid punches from the strong bassline/rhythm-section that hits the pocket and grooves, though it also ends unexpectedly and seems incomplete.
The four bonus tracks are three alternate takes of "Just Like I Told You," "It Was You (That I Needed,)" and two takes (as one track) of "Time Is On My Side," plus there's a 1971 remake of "The Dam Busted." These bonus tracks are interesting additions but are probably one-time listens.
Late sixties and early seventies soul fanatics will love this recording. Unfortunately Carl Hall is part of the long line of musicians that could have/should have been more popular. So kudos to Omnivore for exhuming these tracks that hopefully might illuminate the talents of Carl Hall. Even with the aid of the brilliant Jerry Ragovoy – Carl Hall could not gain traction and radio notoriety. But first and foremost: Hall was an incredible soul singer, he released about two handfuls of singles between 1967 and 1972, but none charted, and that's a shame. But Hall can be remembered on this hip compilation that contains his uniquely soulful contributions and his rarely released work.
Final note: This collection includes a twelve page booklet highlighted by insightful and detailed liner notes by the fine journalist Bill Dahl. Dahl's liners convey historical and previously hard to find facts about Hall, as well as Ragovoy's connection to Carl Hall, and loads more. This is outstanding work by Dahl!
For 16 years Bob Putignano has been pivotal at WFDU with his Sounds of Blue radio show (Wed. & Fri. 9am-1pm) www.SoundsofBlue.com – 2015's most pledged to ($21,000+) radio program at http://wfdu.fm Previously a contributing editor at Blues Revue, Blueswax, and Goldmine magazines, currently the Music Editor for the Yonkers Tribune www.YonkersTribune.com – www.MakingAScene.org & www.wfdu.fm/Whats-Happening/Bob's Music Reviews/bobs music reviews/ Bob was the 2003 recipient of the "Keeping the Blues Alive" award (given by the Blues Foundation in Memphis) for his achievements in radio broadcasting. Putignano can be contacted at: bob8003@yahoo.com