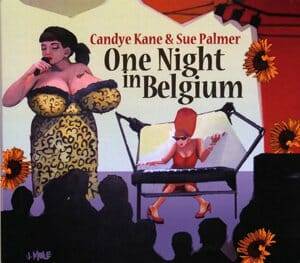 Candye Kane and Sue Palmer
"One Night in Belgium"
Motel Swing Music
Sue Palmer is San Diego's Queen of Boogie Woogie piano. Palmer was previously a member of The Candye Kane Band when they were still called the "Swingin' Armadillos" and she appears on four of Candye Kane's albums including "Diva La Grande" and 1998's "Swango". Palmer also has seven albums in her own name including "Honky Tonk Rockabilly Blues, by Sue Palmer with The Hayriders". In 2010 Kane and Palmer we're re-united as Palmer was hired to be musical director of the "Toughest Girl Alive", Kane's autobiographical play that was part of New York City's Fringe Festival.
There is a certain simpatico that exists when Kane and Palmer are on stage together. Such was the case back in 1999 when Kane and Palmer appeared "One Night in Belgium". Kane is an enormously talented vocalist who has received eight Blues Music Award nominations. This set, primarily of covers, includes Bessie Smith's "Gimme a Pigfoot and a Bottle of Beer", two songs from Billie Holiday including "Lover Man", Rodgers and Hart's "The Lady is a Tramp", Etta James "Only Time Will Tell", Julie London's "Cry Me a River", Doc Pomus' "Boogie Woogie Country Girl", and The Mama's & Papa's "Dream A Little Dream". The remainder of the song selection is just as interesting. Throughout this intimate 44 minute set Palmer's left hand performs miracles.
Kane's newest studio album on Delta Groove Records is "Coming Out Swingin", also featuring her guitarist Laura Chavez. That album is receiving significant attention and airplay. Also released is this older live set which received a San Diego Music Award nomination as Best Jazz Album. For another intimate look at Kane's vocal talents "One Night in Belgium" is highly recommended.
Richard Ludmerer