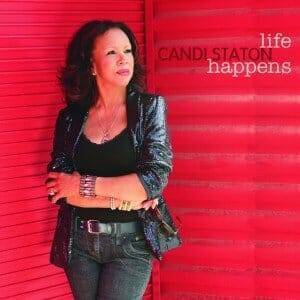 Candi Staton
Life Happens
Beracah Records
In 2013 Magnolia Home Entertainment released "Muscle Shoals" a documentary about Rick Hall's Fame studios where the Muscle Shoals sound was born. Featured in that DVD was Candi Staton.
Staton, who sang gospel as a teenager, had her solo career launched as a Southern soul singer. In 1970 she and producer Hall released her Rn'B version of Tammy Wynette's "Stand by Your Man" and followed that up in 1972 with "In the Ghetto". These were the first of 16 singles and earned Staton the title "The First Lady of Southern Soul".
In 1976 Staton had success, especially in England, on some disco songs including "Young Hearts Run Free". In 1982 she switched her career back to gospel music. Staton returned to secular music in 2006 by releasing the critically acclaimed cd "His Hands". Staton's last album was 2009's "Who's Hurting Now".
This fourteen track set finds Staton reuniting with Muscle Shoals producer Hall. It was at the time the documentary was being filmed; and the DVD shows a glimpse of their first collaboration in 40 years. "I Ain't Easy to Love", which became the opening track on this newest cd, also features vocalists John Paul White and Jason Isbell. Musicians on this track include bassist David Hood, an original member of The Muscle Shoals Rhythm Section a.k.a The Swampers, and long-time Muscle Shoals guitarist Kelvin Holly. Also produced by Hall are "Commitment", with its great horn arrangement; and "Never Even Had The Chance".
Staton has written four of the tracks; "Eternity", "Have You Seen The Children", "My Heart's On Empty", and my favorite "Treat Me Like A Secret". She has also co-written six others. The bluesy "Three Minutes To A Relapse" is from Staton and her daughter Cassandra Hightower. "A Better World Coming" was written with her son Marcus Williams. Staton is also lyricist on "Beware She's After Your Man" with music from keyboardist Mose Davis. Country flavored tunes include "Even The Bad Times are Good" written by Dan Tyler and "Go Baby Go" written by Pete Abbott, Ed Peterson, and Staton. All of these are meticulously produced by Williams.
"Close To You" and the bonus track "Where I'm At" were written with, and produced by Ernie McKone.
Vocally Staton's slight rasp is soul drenched. This album merits repeated listening as each time I find another favorite. Great production and Staton's perfect vocals make this a must to own.
Richard Ludmerer