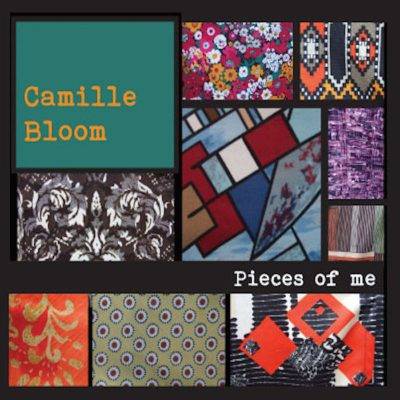 Camille Bloom
Pieces of me
(self)
Seattle based artist Camille Bloom get very personal on her 5th full length album Pieces Of Me released September of 2016. Self-produced and recorded at her new home studio Bloom delivers ten new tracks that reveal the breadth and depth of her songwriting skill, by mixing together folk, funk and dance pop with themes of heartbreak, life, love, loss and perseverance. Bloom did invite some impressive friends to join in the effort beginning with the dulcet cello from Gretchen Yanover who essentially duets with Bloom on the soaring opening track 'Lift Me Up.'
The title track is a mash up of Klezmer and hip hop with marvelous rhythmic counterpoints from percussionist Logan Billingsley and Zack Barden on mandolin underscoring Blooms tale of a tug of war in a complicated relationship. Straight from the pages of her travel diary the rockin' 'Hit The Road,' spells out the life of a hard working troubadour.
Bloom returns to her acoustic guitar for the soul searching ballad 'Turn Back to You,' digging deep in to the source of love. Euro-pop elements underscore the socio-political rant on our cultures addiction to tech and media 'Zombie.' Bloom then takes to the piano for the lover's lament 'Everywhere But Here.' The energy kicks back up for the time shifting rocker 'I Refuse To,' an anthem of inner strength. The cheeky love song 'Nice To Meet You,' features a playful sing-along and some nice jazzy island textures.
The desperate plight of mental illness is championed during the pleading track 'Novocain.' The album closes with another ballad of self-empowerment 'In Another Life,' with Bloom continuing to play to her strength of offering songs of promise.
Rick J Bowen