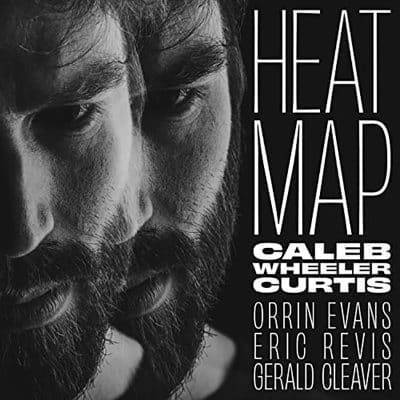 Caleb Wheeler Curtis
Heatmap
Imani
You have to give a quick nod or fist bump to saxophonist/composer Caleb Wheeler Curtis. Heatmap is a pretty cool (ah, oh well) title. While Immanuel Wilkins has drawn more ink in the last few years, it's fair to say that Curtis is also one of more interesting alto saxophonists to recently emerge. Not coincidentally, the inventive pianist, Orrin Evans, has recorded with both. The Ann Arbor-born, Brooklyn-based, and dare we say Philly regular Curtis has been relatively prolific, but this may well mark his strongest effort yet. But let's get to that "Philly regular" reference. During the pandemic summer of 2020, Evans hosted live sessions at his Philadelphia home, dubbed Club Patio, and the most consistent regular attendee seemed to be Curtis. The two have an inseparable bond. It's no accident that Heatmap is being released on Evans' Imani Records imprint. Curtis has released two previous albums as a leader on Imani – Brothers (2018) and Ain't No Storm (2021). He has also appeared on two Grammy nominated albums playing with Evans' Captain Black Big Band (CBBB).
Curtis certainly stays busy, issuing four projects as a leader since 2021, on the Imani, Unit, and Sunnyside labels Ain't No Storm (Imani, 2021) did not feature Evans but was mostly a chord-less quintet date, sharing the front line with trumpeter Josh Lawrence and tenorist Chet Doxas, with CBBB mates Luques Curtis and Mark Whitfield as the rhythm tandem. With the trio Ember, Curtis's explorations were framed by by bassist Noah Garabedian and drummer Vinnie Sperrazza. For the release No One is Any One (Sunnyside, 2021), they are joined by Evans on piano. Then there is a brilliant duo record with Swiss pianist Laurent Nicoud entitled Substrate (Unit, 2022). Curtis was also a member alongside Jason Moran of the ensemble Walking Distance, whose 2018 album Freebird was named one of the year's best by The New York Times.
There's a slightly harsh, Ornette-like quality to Curtis' tone on alto with a knack for melody, an ability to be explosive and yet abstract and explorative as well. All those qualities are evident on this work, a special one as Curtis composed these ten pieces while serving residency in 2021 as a prestigious MacDowell fellow at the MacDowell Colony in Peterborough, NH. Curtis composed the pieces for this very quartet, with each member clearly in mind – Evans on piano, Eric Revis on bass, and Gerald Cleaver on drums, all heavyweights to say the least. Curtis' participation in Evans' 2016 release, #knowingishalfthebattle led him to Revis, who was also part of Evans' famed trio Tarbaby. Revis and Cleaver play together in the bassist's trio, but this marks the first time that the drummer has played with Evans.
The opening title track sets the mood and explorative character of the session as Evans begins in his usual mysterious, unpredictable fashion, Cleaver announcing his presence with clashes of cymbals, and the rhythm section building drama and intensity for Curtis' free alto soaring above. "Tossed Aside" reveals some of Curtis' introspective, tender and melodic side alongside delicate Evans' accompaniment which we hear again on the sublime, hushed "Trees for the Forest" and "Whisperchant." On the other hand, there's little calm and plenty of agitation in the Ornette-like "Surrounding" with Cleaver kicking up a storm, first behind Evans' meandering solo and then Curtis' fiery turn.
"Limestone" is the prototypical example of Curtis being inspired by his rural New Hampshire environs. Its crawling pace speaks to the age and wonder of rock formations slowly eroding, as Revis' bass line provides the sturdy metric for Curtis' alternating short and elongated bursts. "Splinters" bristles with jagged barbs and thrusts, with Curtis blowing clusters of notes and reaching into the outer realms. The backing trio maintains the percolating pace, with Evans alternating bright and dark chords before Curtis brings jagged syncopation to an abrupt halt. "Trees For the Forest" is a gorgeous piece of tranquility, the only example of the leader playing soprano. On "Trembling" and "Sphere," Cleaver's heavy throttling underpins Curtis' vibrant long tones ("Trembling") and sharp, darting quick phrasing ("Sphere"). The melodic clarity peeks through every so often but these repetitive phrases and Evans' dense comping often yield a Coltrane-like intensity. In between we have the hushed and graceful nature inspired "Whisperchant," crafted with an excellent use of space. The wildest piece of all follows with "C(o)urses" with Curtis totally unbounded and locked into circular and spiraling patterns, punctuated with volcanic eruptions.
To quote from the blurb: a heatmap is a way to show where the action is happening. The kinetic energy Is amplified by the inclusion of the more introspective pieces. As Curtis says, "The action is here – in the making of the music." Mostly that action stays on the explorative, edgy side with deep conviction, vitality, and imagination. This could be a pivotal recording in vaulting Curtis to that next level.
Help Support Making a Scene
Your Support helps us pay for our server and allows us to continue to bring you the best coverage for the Indie Artists and the fans that Love them!
Make a one-time donation
Make a monthly donation
Make a yearly donation
Choose an amount
Or enter a custom amount
$
---
Your contribution is appreciated.
Your contribution is appreciated.
Your contribution is appreciated.
Donate
Donate monthly
Donate yearly
You can donate directly through Paypal!
Subscribe to Our Newsletter