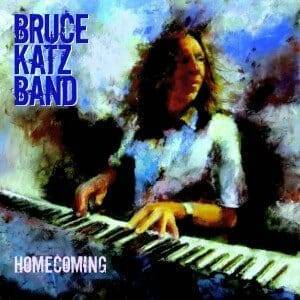 Bruce Katz Band
Homecoming
American Showplace Music
This is Bruce Katz's seventh album and first since 2008's "Live! At the Firefly". Katz also appears on over seventy other albums from artists who recognize his talent; including five each for Ronnie Earl and Mighty Sam McClain. He is able to coax soulful tones outta' those keyboards. Katz is currently a member of The Delbert McClinton Band, and from 2007 til 2013 he was a member of The Greg Allman Band. Katz is a three time Blues Music Award nominee.
The core band consists of Katz, Hammond B-3 and piano; Chris Vitarello, guitars; and Ralph Rosen, drums. Guest musicians include John Hammond, Randy Ciarlante, Marty Ballou, Jimmy Bennett, and Peter Bennett. The album is produced by Katz along with Ben Elliot of American Showplace studios. The cover painting is by artist Christine Vitarello.
Katz, Vitarello, Rosen and Jimmy Bennett open with the first of seven instrumentals. Appropriately named "Homecoming" Katz gets into a Hammond B-3 groove. Vitarello on guitar accentuates Katz's organ. Katz switches to the electric piano to finish out the tune. This title track should receive a significant amount of airplay.
Katz plays piano on the jazzy "Amelia". This is very interesting and beautiful. On "The Czar" Vitarello does some interesting soloing on guitar. "Time Flies" is a faster jazz piece with interesting time changes. "Won't Last Til Tuesday" is another jazzy piece perhaps inspired by something in the fridge. All of the above were written by Katz.
"Just An Expression" is also written by Katz but arranged by Rosen. "No Brainer" is co-written by Katz along with Vitarello. "The Sky's The Limit" is written and sung by Vitarello.
John Hammond sings on "Lightnin" Hopkins' "Sante Fe Blues". Katz's stride piano is infectious. Hammond also plays guitar and sings on Leroy Carr's "Blues Before Sunrise". On these Marty Ballou plays bass.
Randy Ciarlante contributes the New Orleans influenced "King of Decatur" and he provides the vocal too. Once again Jimmy Bennett is on guitar while Ciarlante is on the drums. "It's A Bad Time" was composed by Jimmy Bennett and he also gets to sing on it. Bennett also plays slide guitar and sings on Elmore James' "Wild About You Baby", his brother Peter plays bass.
Katz is undoubtedly one of the best keyboardists working today. He usually is making someone else sound better. This is his time to step out front. I hope to catch him "live" somewhere soon.
Richard Ludmerer