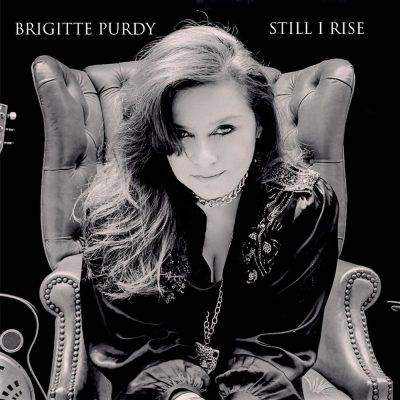 Brigitte Purdy
Dirtshack
Still I Rise
Terrific singers are often comfortable in several genres, but most want to be blues singers to showcase their emotive power. That's why versatile, gifted, and downright sultry vocalist, Brigitte Purdy, is belting blues and seductive R&B on her debut, Still I Rise. Born and raised in Los Angeles, Purdy with a classical, theater, and choir background, has already been asked to perform on the same stage with artists like Walter Trout and Sugarray Rayford. She's already sung background for The Who and Paul Rodgers. And now, she's able to pursue her true passion, the blues, with her own penned ode to B.B. King, as well as a rich array of slow burning blues and up tempo tunes.
The song she wrote for B.B., "Lucille Don't You Weep," became a revelation of sorts as Purdy hadn't tried her hand as a lyricist much prior to writing it. Encouraged by the positive comments of the music press worldwide, since her debut single, she hasn't stopped writing and recording new material. "Blues Angel" is another one that's received plenty of airplay to date. It's not a straight blues tune, as jazz and pop prevail there instead.
Purdy writes the lyrics while teaming with Southern Californian multi-instrumentalist Dave Osti, who produced, co-wrote and played in the band that recorded these tracks at Loveless Motel Studios in Sierra Madre, CA with engineer Billy Burke. BMA and Grammy nominee Kenny Neal was impressed enough with Purdy's songs and vocals to guest on the opening track "Hoodoo," adding his harmonica to put a little Louisiana swamp in the mix. The gospel-fueled "In the Light" follows as Purdy, together with her background singers, soars above Drake Shining's B3 and Osti's bluesy guitar. "Home Is In My Heart" shows that she can get down in raunchy, sassy, declarative mode too, claiming her territory boldly and definitely. The piano-driven boogie "My Kinda Blues" is another example of a confident, no-nonsense woman.
Purdy's sultry, smoldering vocal in "Last Time," proves that she's the real deal. The next tune, "Get it Understood," has some lines that seem to be in other songs – "don't call me baby, don't call me sugar, get it understood" as Purdy rebels against the advances for a one night stand. Yet, this too is her original, another example of her confident swagger. "If I Could" though shifts the balance a bit as she finds herself teetering on the edge of temptation.
Three multi-layered produced songs close out the album, first with her ode to B.B wherein she makes several references to his songs. Production includes strings, backing vocals and some funky keyboards framing Purdy as Osti takes the requisite guitar solo. "Blues Angel," as good a song as it is, seems a bit out of place here musically in its easy listening jazz mode. It does show Purdy's versality as does the orchestral closer, the title track, driven by the keyboardist Shining.
Purdy didn't get her by accident. Her whole life has been building toward this release. Her father was a blues guitarist and would often have her sing at family gatherings. At the age of five, she was hand-picked by the choir director to sing her own solo. Age the age of 13, prompted by her mom, she auditioned against hundreds of contestants to enter the Dorothy Chandler Conservatory, ultimately selected and trained by the world's foremost vocal coaches. Soon she began performing alongside Dionne Warwick, Dolly Parton and many others. This debut hails the arrival of an artist whose career will likely continue to rise for many years to come. She can sing!!
[amazon_link asins='B07DDG52MF,B01IDK6NB8,B07DDBRTTN,B01IDK6PBQ,B07DDCLSJJ,B07DDDNHFV,B07DDFDYC9,B07DDDRT7V,B07DDF2C3P' template='ProductCarousel' store='maasc-20′ marketplace='US' link_id='b6bbdcff-8e90-11e8-a2a5-01e5801dfe51′]