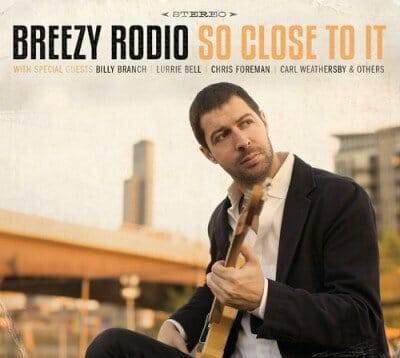 Breezy Rodio
So Close To It
Windchill Records
Breezy Rodio is the guitarist in the Linsey Alexander band. This is the third album of his own and the follow up to his 2012 "Playing My Game Too".
Like many guitarists of his generation Rodio first fell in love with the guitar from listening to Stevie Ray Vaughan and then worked backwards to discover B.B. King, Albert King and other influences. Settling in Chicago Rodio was mentored by Guy King and he has really absorbed the blues.
The band includes Rodio, vocals and guitar; Light Palone, bass; Lorenzo Francocci, drums; Bill Overton, sax; Sumito Ariyoshi, piano; and Chris Foreman, organ.
Rodio has composed a bunch of new songs. The title track "So Close To It" features the harmonica of Quique Gomez and the refrain "if you don't like the music why are you standing so close to it". On "Walking with My Baby" the harp is played by Billy Branch. "Time to Come Back Home" includes a great organ solo by Foreman. "The Day I Met You" written with Pete Galinas features guest vocals by both Joe Barr and Carl Weathersby. "I Win Some More" features a vocal by Lurrie Bell and great guitar work from both Rodio and Bell. "I Can't Get Enough of You" is another well written song from Rodio.
Selected covers include three songs recorded by B.B. King. "When My Heart Beats Like a Hammer" written by Sonny Boy Williamson I and "Sneakin' Around" featuring the horns of Bill Overton, saxophone, and Doug Scharf, trumpet; were both recorded in 1960. "Please Accept My Love" was recorded by King in 1969.
"Your About to Lose Your Clown" was first recorded by Son Seals and included on his 1984 "Bad Axe" album on Alligator Records. "Too Lazy" and "Evil Hearted Woman" were recorded by T-Bone Walker in 1954. "One Broken Heart for Sale" was written by Otis Blackwell and recorded by Elvis Presley in 1963.
The band is excellent throughout the recording especially "Ariyo" whose piano stylings pair well with Rodio's guitar. This is mostly slow understated blues and a great album from Rodio.
Richard Ludmerer