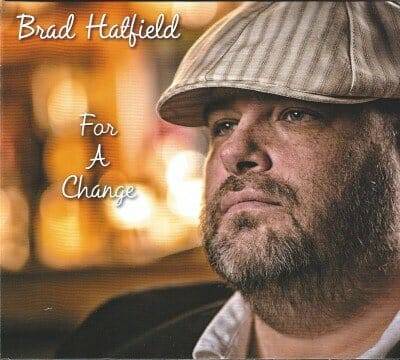 Brad Hatfield
For A Change
Independent
Coming back from a construction accident is not an easy thing to do. Left partially paralyzed ex-guitarist Brad Hatfield picked up the harp. Hatfield is a soulful singer and is "often compared to the likes of …Bobby Bland and Joe Cocker". Hatfield's 2012 debut "Uphill From Anywhere", received him a 2013 BMA nomination for Best New Artist.
On Cincinnati native Hatfield's new album, "For a Change", the band consists of Hatfield, harmonica and vocals; Bob Britt, who has played with Delbert McClinton, guitar; Kevin McKendree, also from The Delbert McClinton Band, keyboards; Tommy MacDonald, who has played with Buddy Guy, bass; and Blues Music Award winning producer Tom Hambridge, drums.
Hatfield has written two new songs, the slow blues "Never Finished Nothin'" and "Burbank's Boogie". He has also co-written "So Much, So Little" with producer Hambridge. These feature Hatfield on harp. On the later he gets that high reedy sound that I love; this just might be the Song of The Year. These also feature McKendree on piano.
"Smarter than I Was" and "Swamp Poker" were written by Hambridge. The opening track "That's My Home", "Behave Yourself", and "Good Love After Bad" were co-authored by Hambridge with his regular writing partner, Richard Fleming. "Devil On Both Shoulders" was written by them with Brandon Giles; and the title track, "For a Change", by them with Scott Holt.
"Drink, Drank, Drunk" is the first of two songs written by Hambridge with Nashville's Gary Nicholson. It first appeared on an album of the same name by the Andy T – Nick Nixon Band. The other song co-written by Hambridge and Nicholson is "Back Door Scratchin'" featuring an extended harp solo from Hatfield.
These are great performances as Hatfield is a commanding vocalist and this band really cooks. Hambridge is a great producer who knows how to draw out the best from those he works with. Be sure to check out this new album from "up and comer" Hatfield.
Richard Ludmerer