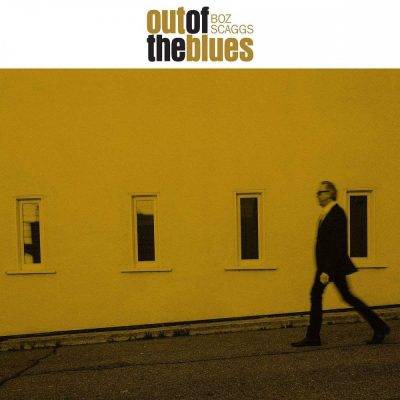 Boz Scaggs
Out Of The Blues
Concord Records
Atlantic Records signed Boz Scaggs in 1968 and released his self titled debut. The album featured guitarist Duane Allman and The Muscle Shoals Rhythm Section. Included were his versions of "I'll Be Long Gone" and "Loan Me A Dime" and they received a considerable amount of airplay on FM radio.
Scaggs signed with Columbia Records in 1971 and released "Moments". The single off that album was "We Were Always Sweethearts". Then in 1976 his "Silk Degrees" album produced four singles; "Lowdown" hit #3 on Billboard's chart while "Lido Shuffle", released the following year, hit #11. In between his commercial successes Scaggs began to explore his roots and in 1997 "Come On Home", a collection of Rhythm and Blues classics and originals, received a Grammy nomination.
"Out of The Blues" is the final album in a trilogy which began with 2013's "Memphis" and 2015's "A Fool to Care". Scaggs states "I'm a child of the 50's and grew up on the music of my parents' generation, then came early rock radio with Elvis, Fats Domino, Chuck Berry and Little Richard. Particular to my coming of age in the Southwest was hearing that crazy stuff out of south Texas and Louisiana". "These albums, to some degree, are an exploration of those early influences, tracked through different periods of my experience."
This new album is Scaggs 24th and it is entirely self-produced. He has assembled an all-star band including: Jim Keltner whose been called "the leading session drummer in America" and whose recording credits include The Traveling Wilburys, Little Village, Joe Cocker, Delaney & Bonnie, Ry Cooder, Bob Dylan, George Harrison, John Lennon, Ringo Starr, Eric Clapton and others; Willie Weeks who has worked with George Harrison, Randy Newman, Clarence "Gatemouth" Brown, Aretha Franklin, Buddy Guy, Etta James and countless others, bass; Jim Cox, whose previously recorded with Mark Knopfler, Ringo Starr, and many others and has also been with Scaggs for a long time, keyboards; and guitarists Ray Parker Jr, Doyle Bramhall II, and Charlie Sexton. The horn section includes Eric Crystal and Thomas Politzer, tenor saxophones; and Stephen "Doc" Kupka, baritone saxophone.
Four new songs and five covers are included. "Little Miss Night And Day", is the first song off the album to receive airplay. It was written by Scaggs and Jack "Applejack" Walroth, a harmonica player, who also contributed songs to Scaggs' previous two releases. Guitarists Bramhall and Sexton both take solos, while Cox tinkles the ivories. Scaggs states Walroth is "a prolific writer and he's influenced by a lot of the same music that got to me". Three more songs were written by Walroth, who plays harp on "Rock and Stick" featuring a beautiful vocal from Scaggs and Bramhall on guitar. On "Radiator 110" Steve Freund guests on lead guitar while Scaggs plays rhythm. "Those Lies" feature Sexton on guitar, Weeks on bass, and a fabulous horn arrangement.
My favorites are the covers. "I've Just Got To Forget You" written by Don Robey was first recorded by Bobby "Blue" Bland on his 1961 Duke Record's album "Two Steps From The Blues". Scaggs wraps his emotive pipes around it, in one of the best vocal performances since Johnny Adams. Cox's piano and organ are perfect. Scaggs repeats with another 1961 Bland classic "The Feeling is Gone" also written by Robey. Both of these feature horn arrangements by Crystal and Scaggs that are based on the original arrangements by Joe Scott. Crystal also takes a beautiful tenor sax solo.
"(I've) Just Got To Know" was written and recorded by Jimmy McCracklin on his 1961 album of the same name; it was also recorded live three years later by Magic Sam. The guitar solo is taken by Sexton. This is another strong vocal performance.
"Down in Virginia" from Jimmy Reed was recorded in 1959 on the Vee Jay Records LP "Rockin' with Reed". Bramhall plays a high reedy harp before he solos on guitar, while Scaggs lays down both rhythm guitar and bass.
"On The Beach" written by Neil Young was the title track to his 1974 album. Scaggs' vocal paints a picture as he sets up Bramhall's evocative solo.
Scaggs has had an illustrious career but this album and the two that preceded it are his best. Rather than Scaggs' voice deteriorating as he ages it may even be more beautiful than ever. "Out Of The Blues" is a winner.
Richard Ludmerer
[amazon_link asins='B07CXC3312,B00138J96E,B00138F7ME,B00G04K36G,B00TX2O77I,B00RDRJ9R8,B000UTI7H4,B00G04KHOE,B00137GK7G' template='ProductCarousel' store='maasc-20′ marketplace='US' link_id='40071d34-8f9f-11e8-bf36-67a34e5f73b9′]