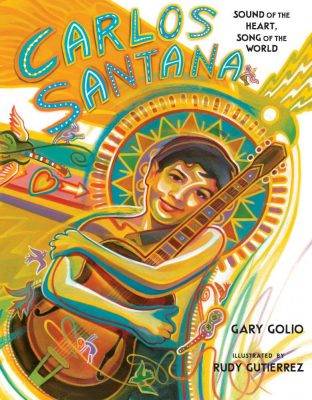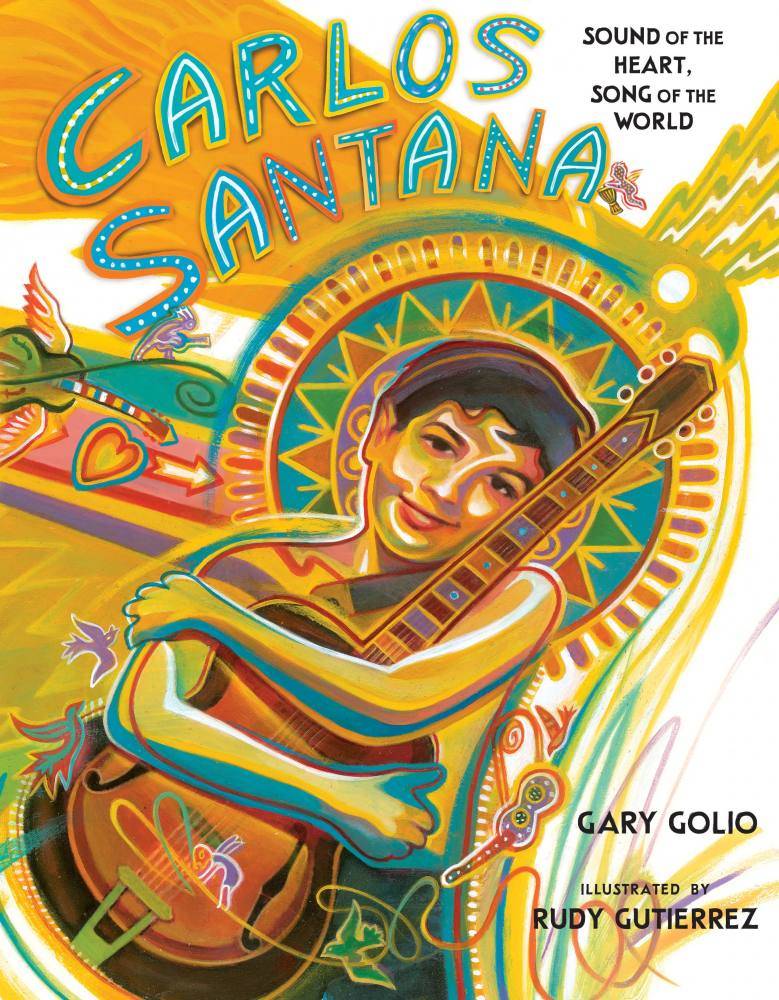 Carlos Santana Sound of the Heart, Song of the World
by Gary Golio
The story of Carlos Santana's musical development from a six-year-old boy being groomed to be a mariachi violinist to a man who makes music for the world is an inspiring one. In Carlos Santana: Sound of the Heart, Song of the World, author Gary Golio has captured that story in a manner suitable for all ages, His words are a pleasure to read aloud, and this book would be perfect for a parent or a teacher to share.
But it is the illustrations by Rudy Gutierrez that make this book a treasure for adults and children alike. Using primarily orange, green, blue and brown shades and profuse Mexican imagery, Gutierrez swirls images across the pages. The exuberance of the pictures captures the joy of Santana's music and draws the viewer in the same way. Gutierrez is perhaps best known for having created the cover for Santana's multi platinum album Shaman. He was the perfect illustrator for this book and makes it a joy to own and look through again and again.
There are not enough books about musicians that are suitable for the whole family. This one is. Share it with any child old enough to pay attention to it, along with Santana's music. The quote on the back of the book is, "The most valuable possession you can have is an open heart. " Carlos Santana said that, and his story, told in this dynamic fashion, may just open some, and remind us to keep our own open.
[amazon_link asins='162779512X' template='ProductCarousel' store='maasc-20′ marketplace='US' link_id='a7b3efc3-c1ec-11e8-b987-5fde5e2f4085′]