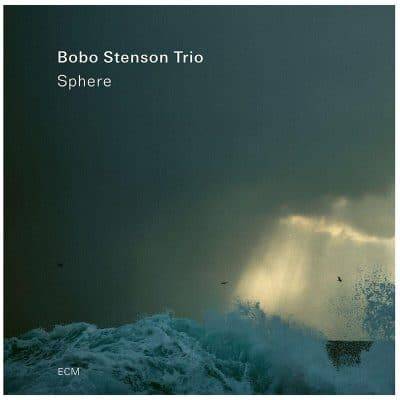 Bobo Stenson Trio
Sphere
ECM
European piano trios, many of whom come from a classical background, often sound very different from their American jazz counterparts. Such is the case for Swedish pianist Bobo Stenson who made his debut with ECM a whopping 52 years ago with Underwear and has remained in the ECM stable with producer Manfred Eicher ever since. His original trio included bassist Anders Jormin and drummer Jon Christensen. That unit worked together for three decades. With 2008's Cantando, Jon Fält became their permanent drummer and Sphere, is their fourth project, similar in some respects to 2018's Contra la Indecisión but containing just two originals. It is primarily comprised of works by 20th and 21st century Scandinavian composers including Per Nørgård, Sven-Erik Bäck, and Jean Sibelius, and offers two originals by Jormin. It's a quiet album that demands a concentrated listen but rewards with a 'lost in the music" lasting effect which may have you returning to it when in a particularly contemplative mood. 
It's an example of why the album format is vital for these kinds of endeavors as the album is bookended by two versions of "You Shall Plant a Tree," composed by Nørgård. A minimalist five-note piano motif begins as Fält uses brushes and Jormin offers a countermelody, becoming more prominent in deliberate pizzicato mid-piece. The closing version leverages the theme's lyricism in a bluesy group improv that seems to emit echoes, perhaps part of the lasting effect of this music as alluded to earlier. The delicate nuances in both treatments seem deceptively simple but are very mood inducing.
Jormin's "Unquestioned Answer" is a tribute to Charles Ives and continues the mood of the opener with the pianist seemingly playing a subservient "fill" role to the bassist's leads and drummer's use of padded mallets and a few industrial-like clashes. Jormin eventually goes the arco route, accompanied by spare, melancholically hollow piano chords. The bassist's next original is entitled "Kingdom of Coldness" and is sandwiched between two pieces by Bäck, "Spring," and the album's pivotal track, "Communion Psalm." Let's take these two before returning to Jormin. In "Spring" Swenson delivers a combination of atonal notes and chords accentuated by Jormin' plucking and Fält's shimmering cymbals. Jormin's bass leads in quietly to "Communion Psalm" as Stenson's right hand emulates the phrasing of a chorale before the pizzicato bass solo enlivens the collective work of the trio, with each member conversing and anticipating the other's next move, the intensity up a level or two from the openers but in line with Jormin's "Kingdom of Coldness," ironically much warmer than any piece preceding it. Here Stenson's lines are more lyrical, accented by poignant bass strokes and inventive kit work from Fält. Consider that while we have the two bookend pieces, "Kingdom of Coldness" and "Communion Psalm" are the true centerpieces of this work.
Following "Communion Psalm" we have a piece composed by a non-Scandinavian, Jung Hee Woo, and his melodic, intensely peaceful ballad, "The Red Flower" which reveals more delicate, intimate  stylings from the trio as it begins to veer away from classical into the realms of jazz as signaled by Jormin's bass work which also marks Alfred Janson's "Ky and Beautiful Madame Ky" where the trio even begins to swing a bit. Yet, as with the others, ends so quietly one wonders how the trio disappeared so quickly. They render Sibelius' 'Valsette' (opus 40, no. 1) very abstractly beginning with a tinkering of notes detached from any semblance of a melody until the arco bass begins to form a theme. The drummer scatters an array of shots, making full use of his kit, until one hears the familiar melody fragments exchanged between the piano and bass.  Like the earlier pieces it morphs between a weird lyrical beauty and disarming haunting tones.
Only an experienced trio of this ilk could make this explorative music. Stenson and Jormin have been together for over five decades now and do not seem the least bit bored. Again, this is high level listening that demands full concentration for which you will be justly rewarded. This one is special.
Help Support Making a Scene
Your Support helps us pay for our server and allows us to continue to bring you the best coverage for the Indie Artists and the fans that Love them!
Make a one-time donation
Make a monthly donation
Make a yearly donation
Choose an amount
Or enter a custom amount
$
---
Your contribution is appreciated.
Your contribution is appreciated.
Your contribution is appreciated.
Donate
Donate monthly
Donate yearly
You can donate directly through Paypal!
Subscribe to Our Newsletter