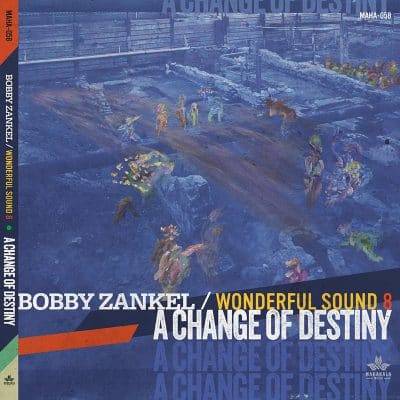 Bobby Zankel/Wonderful Sound 8
A Change of Destiny
Mahakala
For many of you this is your introduction to Philly saxophonist and composer Bobby Zankel. Yet even those familiar with Zankel are likely not familiar with the story he tells on A Change of Destiny. Let's take them one at a time. Zankel spent the better part of 40 years working with Cecil Taylor. He's worked closely with Muhal Richard Abrams, was taught by Ornette Coleman, and has history with such avant-garde players as Steve Coleman, William Parker, and Marilyn Crispell.  In terms of Philly musicians, Zankel has worked with Jymie Merritt (bassist for the Jazz Messengers), the innovative saxophonist/composer Odean Pope, and studied for 15 years with Dennis Sandole, best known as Coltrane's teacher. Zankel has been teaching in Pennsylvania prisons for over 30 years. Of course, there's plenty more. Have fun with your research.
A Change of Destiny is a six-section suite of Zankel's self-described "resistance, revolution, and renewal" as a response to the excavation pf slave quarters on the site of the President's House – George Washington's residence in Philadelphia (before there was a White House in D.C.).  This darker side of the city's history is the distillation of music that Zankel wrote for a dance piece, The Spirits Break to Freedom, a collaboration with dancer/choreographer Germaine Ingram and visual artist John Dowell in the 2010s. To be clearer, this is a standalone piece and was composed with the following musicians in mind. The octet (Wonderful Sound 8) is an offshoot of his Warriors of the Wonderful Sound Big Band and features premier musicians of the city – drummer Pheeroan AkLaff, trombonist Robin Eubanks, vocalist Ruth Naomi Floyd, violinist Diane Monroe, altoist Jaleel Shaw, bassist Lee Smith (Christian McBride's dad), and pianist Sumi Tonooka.
Opener "Destiny" is based on a the late Jymie Merritt's-inspired cross rhythm with lyrical passages sung by Floyd – "Why have we been brought here?" and "My destiny belongs to me!" You can easily hear Zankel's bent toward large ensemble orchestration even with this condensed unit. We hear solos from the three horns and the pianist although since Zankel and Shaw both play alto we can't be precise about who is whom. We'll guess that Zankel takes the solo before Eubanks and that Shaw follows Sumi's. Just realize, as you probably have already, that all lean edgy. Aklaff weighs in with a cymbal heavy solo, perhaps symbolizing chains, or the shedding thereof as a precursor to "Spirits Break to Freedom," which is an epic piece in several sections with NOLA rhythms, Afro-beat, and an overall bustling urban feel that feels very much contemporary. In "Naming Names" Floyd cites the names of "our nation's nine founding mothers and fathers whose forced labor made the President's House functional." There is detail on each and their specific roles in the liners. The tune is played to an Ornette Coleman inspired praise song.  The interplay of Zankel with the unbridled Sumi likely felt very comfortable to him as it resembles Cecil Taylor's sound.
"Ring Shouting" is the gospel-infused ritual African dance of the slaves. "Rituals of Resistance" is more modern and just as joyous in its own way with Michael Jackson break dancing rhythms, steered deft by the drummer-bass tandem (who later take their own sequence) and Sumi' steady bell-like comping with the saxophones, trombone, and Monroe's violin unleashing vibrant lines. Sumi delivers her angular, bouncy solo before the unit reprises the theme, culminating in the most abrupt of endings. "To Be A Human Being" closes, another round of joyous music with Floyd singing over a 14-beat rhythmic mode and reciting words of Malcolm X, with Eubanks especially striking in his low end bursts.
As an historical note, there is a somewhat conflicting but ultimately redeeming message too. As stated in the liners – "Washington expressed his guilt over the conflict between slavery and his religious beliefs, but he signed the Fugitive Slave Law and tried to capture Ona Judge for years -sometimes by unlawful means-after she escaped from the President's House. He directed in his will that his slaves be freed, but only after Martha's death."
Zankel's hope is that you'll find the music as uplifting as he does. As a devout Buddhist, he has been battling Parkinson's disease in recent years, but like those (perhaps Wayne Shorter and Herbie Hancock most famously) who practice that faith, he channels his optimism in creative directions. This is a tour-de-force by any measure.
Help Support Making a Scene
Your Support helps us pay for our server and allows us to continue to bring you the best coverage for the Indie Artists and the fans that Love them!
Make a one-time donation
Make a monthly donation
Make a yearly donation
Choose an amount
Or enter a custom amount
$
---
Your contribution is appreciated.
Your contribution is appreciated.
Your contribution is appreciated.
Donate
Donate monthly
Donate yearly
You can donate directly through Paypal!
Subscribe to Our Newsletter