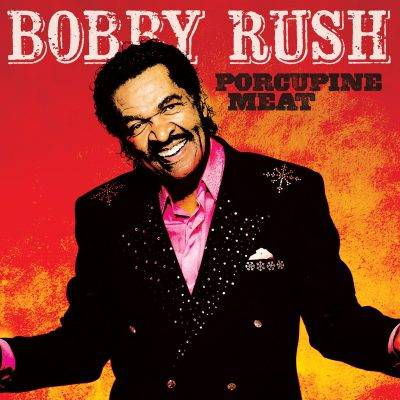 Bobby Rush "Porcupine Meat" Rounder Records www.Rounder.com
At eighty-two years old the seemingly forever youthful Bobby Rush would not be on anyone's shortlist for signing a new major label contract and kicking off what seems to be a new page for his already lengthy and successful career. Add to the mix "Porcupine Meat" producer Scott Billington lending his skillful hands and shaping the legendary performer into a more tasteful Blues performer that should widen Rush's appeal to reach a far larger and broader audience. Even though there's additional emphasis for a tighter studio effort – Rush's disposition and sound remains truthful to his persona, keeping his unique mix of Blues, Soul and Funk where it always has been and preserved as it should be; down south and downhome. By the way, each of the twelve tunes included are all authored by Bobby Rush.
Highlights: The first song "I Don't Want Nobody Hanging Around" sets the raucous and funky tone, Rush sounds eras younger than I expected as the top flight band righteously marches through this horn fueled affair. The title track is all Soul aided by David Torkanowsky's Fender Rhodes piano and the dual guitars of Vasti Jackson and Shane Theriot make "Porcupine Meat" the correct choice for the title of this recording. "Got Me Accused" is a soulful Blues song that perfectly utilizes Kirk Josesph's sousaphone (as the bassist,) the initial sparse arrangements punctuate Rush's vocal and harp, but it runs on for over seven minutes and should have been shortened. The funky horns activate the appropriately titled "Funk O' De Funk" those horns include the ace baritone sax of Roger Lewis of the Dirty Dozen and more. Check the Soul ooze on "Me, Myself and I" that also gets a power boost via Joe Bonamassa's edgy and tasty guitar solo. "Catfish Stew" is another Soul-Funk winner; note how the band hums with those perfectly synched guitars, Jellybean Alexander's drumming, the horn players, and Kirk Joseph's sousaphone playing the bass parts again. "It's Your Move" has an uptown cosmopolitan groove adds Dave Alvin's guitar solo that fits right into the southern Soul and soft Funk groove. Keb' Mo's guitar guests on the swampy "Nighttime Gardener" shuffle that's easily the weakest song on this recording, but as the ninth track and with so many other earlier sequenced songs that shine brightly – who cares? "Standing On Shaky Ground" (is not the same tune Jeffrey Bowen wrote that Delbert McClinton made a hit) punches well as a rocking soul outing that allows the band to roll. The finale "I'm Tired" is the smallest ensemble on this recording (a quartet) Vasti Jackson's guitar, Cornell Williams bass, Jellybean Alexander's drums and Rush's harp and vocal. It's a basic Blues that doesn't fit the good flow of "Porcupine Meat" and could've and should've been omitted.
In summary this is what you get when you go to record in New Orleans and call on the some of the South's finest musicians. Toss in a few well-known guests all under the tutelage of a very successful producer (Scott Billington) has concocted: one of this year's standout recordings. "Porcupine Meat" is well thought-out and executed to as near perfection as possible, Rush sounds like a man whose been given a twenty year olds heart with an equally aged set of lungs. Kudos to Rush's and Billington (I'm sure this was not an easy chore) especially since Rush's abilities were not compromised or diluted. That being said: Look for this album to appear on many critics top-ten best-of lists for 2016. Who'd have thought this could happen? I certainly didn't. But enjoy it, as they don't make many albums like this one anymore.
For 17 years Bob Putignano has been pivotal with his Sounds of Blue radio shows.
On-demand Homegrown Sounds of Blue internet radio shows can always be found at: www.soundsofblue.com/radioshowsmp3.htm
Sounds of Blue also streams on Wed & Fri at John Sinclair's www.RadioFreeAmsterdam.com
Previously a contributing editor at Blues Revue, Blueswax, and Goldmine magazines, currently the Music Editor for the Yonkers Tribune www.YonkersTribune.com & www.MakingAScene.org Bob was also the 2003 recipient of the "Keeping the Blues Alive" award (given by the Blues Foundation in Memphis) for his achievements in radio broadcasting. Putignano can be contacted at: [email protected]