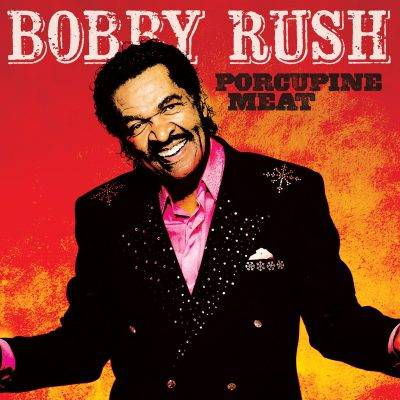 Bobby Rush
Porcupine Meat
Rounder Records
Emmit Ellis Jr. better known as Bobby Rush was born in Homer, Louisiana in November of 1933. The family moved to Pine Bluff, Arkansas and as a youngster he befriended Elmore James. Rush eventually formed his own band. When he was twenty the family moved to Chicago; Rush met Muddy Waters and began working with Jimmy Reed.
Rush's music is a combination of blues, soul and funk. In 1971 Rush's original tune "Chicken Heads" became his first Gold certified single as it sold over 500,000 copies. Rush released his first album "Rush Hour" in 1979. Rush has 41 Blues Music Award nominations having won that award 10 times. He also has three Grammy Award nominations.
Producer Scott Billington is a blues musician, songwriter and record company executive. He has produced albums by Clarence "Gatemouth" Brown, Solomon Burke, Johnny Adams, Irma Thomas, the Dirty Dozen Brass Band and others. Billington has eleven Grammy nominations having won that award twice.
"Porcupine Meat" is Rush's 30th album and first for Rounder. Billington states "we wanted to come up with something fresh while staying 100% true to Bobby". So for the very first time Rush recorded in New Orleans. Billington has assembled a band consisting of some of the best of Louisiana's musicians. The band includes Rush, harmonica and vocals; musical director Vasti Jackson, guitar; Shane Theriot, electric and acoustic guitar; David Torkanowsky, Hammond B-3 and piano; Kirk Joseph, sousaphone; Cornell Williams, bass; and Jeffrey "Jellybean" Alexander, drums. The horn section consists of Jeff Albert, trombone and arrangements; Jeff Watkins, tenor sax; Barney Floyd, trumpet; and Roger Lewis from The Dirty Dozen Brass Band who plays baritone sax on three tracks.
Rush is a prolific songwriter as all of the songs were written or co-written by him. Rush plays harmonica on eight of the tunes including the topical "Got Me Accused" and on the straight ahead blues "I'm Tired". On the funky "I Don't Want Nobody Hanging Around" and on "Funk O' De Funk" Rush gets into a danceable groove.
Rush's songs are often full of sexual innuendo and he provides us with some grins on "Dress Too Short"; on "Catfish Stew" co-written with Billington and his wife Johnette Downing, and especially on the title track "Porcupine Meat" with the lyric "too fat to eat, too lean to throw away".
Guesting on guitar are Joe Bonamassa who takes a solo on "Me, Myself and I"; Dave Alvin who does the honors on "It's Your Move" and Keb Mo' who takes one on slide on "Nighttime Gardner".
Rush states that he just tries to record good music and tell stories. Well he's done it again as this album is one of his best.
Richard Ludmerer