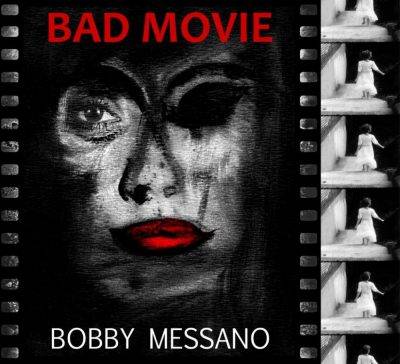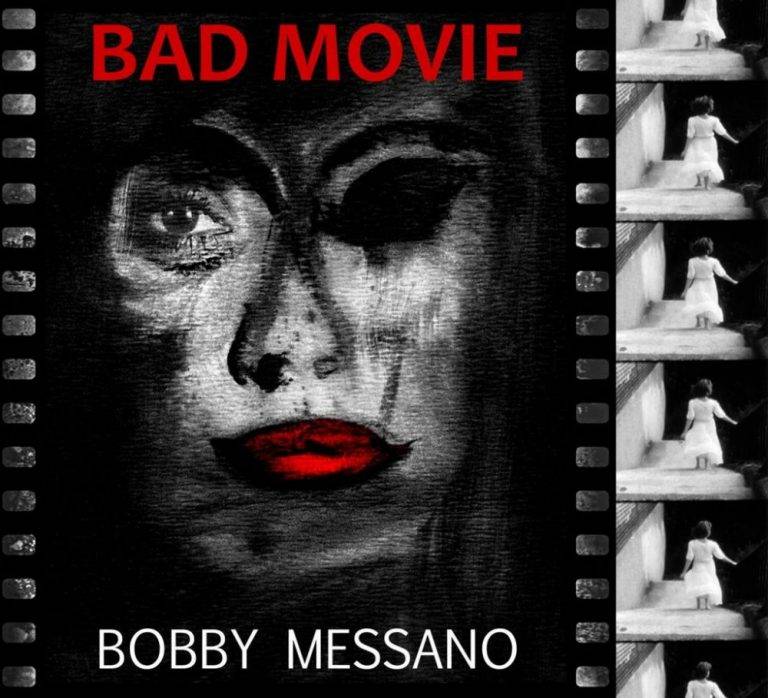 Bobby Messano has been up and down the scale a time or two in a lot of years of playing music. He has been music director for Steve Winwood and Lou Gramm and for county artists Jimmy Wayne and Rodney Aikens. For his own solo work, he chose to play and sing the blues and he has released seven albums. Every album seems to me to be the best, but I truly believe Bad Movie tops them all.
Great blues comes from real and powerful emotion and requires an artist wiling to reveal his whole soul to his listeners. Bobby is that sort of artist. He wrote or co-wrote all but one of these songs and some of them are heartfelt political commentary, but like many musicians, life on the road has led to some romantic misadventures and they do indeed, sound like a very bad movie. And like blues men do, he weaves these bad experiences into song, often with a mix of heartbreak and humor.
All of these songs are great by themselves, but Bobby has stressed to this writer that you should really listen to them in order. So let us begin with the opening track, which builds like it should be over the opening credits and then bursts into a raucous Texas-style rant (which has spawned a deeply entertaining video as well.)
The next song, "Come To Your Senses," is a soulful plea for a lover to come back. It is the only song Messano did not have a part in writing. It was written by Brian May of Queen and Jon Tivens, and it is perfect for Bobby's voice. He then delivers a beautiful, brooding ballad, which also showcases the sensitive side of his guitar playing and gives us the first real glimpse of Bobby's battered heart, "Why Water a Dead Rose?" This is one of my two favorite tracks.
The blues then turns more country as Bobby treats us to some tasty acoustic dobro, adding a light touch to a trip down "The Road To Oblivion," stepping momentarily away from the bad romance to broaden the scene and let us know what else is bothering him: the state of the country. He takes a catch phrase and makes it actually mean something in the rocking "Unconventional Wisdom," a full-out cry for an explanation that actually makes sense for what's going on.. From the "Bad Movie" point of view, this placement makes sense. Messano's life is going through great change and so is the country. The best tools he has to make sense of anything are honesty, humor, and the blues.
"Too Good To Be True" returns us to Bobby and that really bad girl, with some funky guitar and Memphis soul. Plot-wise, we are moving into bitterness here and in the cleverly titled "If The Phone Don't Ring, It's Me Not Calling,"he gives us enough information to understand why, with a fine cinematic twist on Bo Diddley as well.
"Never Too Late To Break a Bad Habit" introduces some hard-earned wisdom in a solid rock song. "I Thought We Had This" has a slight swing and some very clever lyrics.
"Water Under The Bridge" is an album highlight as Alicia Elliott joins Bobby for this acoustic ballad about what we all need to do to save the world. Taking a sharp emotional turn, Messano gives us more of his dreadful relationship with the brutally honest "You Left Me No Choice," buffering the blatant heartache with the light reggae style. "The Girl That Got Away" is a smooth jazzy lament and testimony to despair but the listener can hear the beginning of acceptance and the start of moving on in its nostalgic tone.
The last few songs turn us back to politics as Bobby addresses further what he believes, tackling the immigration issue in "we Need A Blessing" and then asking "Is It Too Late To Ask For a Miracle?"
The album ends on the optimistic "American Spring," in which Bobby gives us his answer to overcoming anything,"This boy is going to stick around and sing." And lucky for us,too.
it just proves a Bad Movie can make a brilliant album!
[amazon_link asins='B06XT34ZW6,B06XHTJY7Y,B06XT5HMTV,B06XTD2F36,B00ZXF9L2U,B00DVNBQHO,B000006CRJ,B00HX860J2′ template='ProductCarousel' store='maasc-20′ marketplace='US' link_id='b32f8150-239a-11e7-af3f-415748696920′]