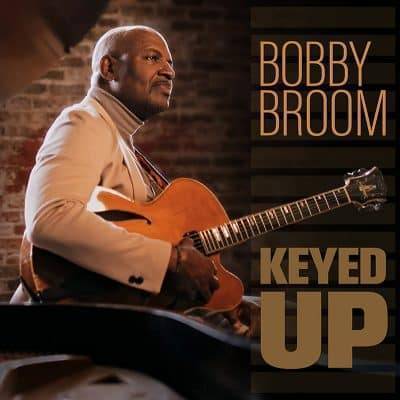 Bobby Broom
Keyed Up
Steele
It may seem a bit unusual to see a master guitarist honor piano greats, but many will recall the legendary pianist McCoy Tyner's honoring guitarists with his album, Great Guitars. Guitarist Bobby Broom, who for the last three decades, has worked exclusively with a trio, brings aboard an acoustic piano player to join him on the front line for his tribute to pianists, Keyed Up. So, emerging piano talent from Chicago, Justin Dillard joins Broom's working trio of bassist Dennis Carroll and drummer Kobie Watkins.
We've written in this space about how the guitar and piano are not often found in a jazz quartet due to the duplication of chordal instruments yet there are plenty of examples that negate that notion. Broom cites Oscar Peterson with Joe Pass and Herb Ellis, Wes Montgomery with Wynton Kelly and Peter Bernstein with Brad Mehldau. There are many others; just from this year we have Bill Frisell with David Virelles, and Myra Melford with Mary Halvorson.
The idea has been simmering for a couple of years as bassist Carrol suggested doing a few Bud Powell tunes. Broom worked some ideas with Dillard and Carroll in Chicago and then sent music to his longtime drummer Watkins, who lives in North Carolina. In one sense, it could be termed rather inevitable as the Harlem native Broom began as a teenager playing with Charlie Parker alumni Al Haig and Walter Bishop, Jr. Keyboardist Dave Grusin produced Broom's first two albums. Broom worked with Dr. John, James Williams, and Chicago greats such as the late Ramsey Lewis among others. Broom's history, some of which he cites in the liners, is certainly worth a bit of research as the names of Art Blakey and Sonny Rollins play into too. But that's for you.
The quartet covers a wide range of pianists and styles but the most meaningful one to Broom is the one he calls out in the liners, "Soulful Bill," by James Williams, who gave Broom an opportunity along with Wynton Marsalis to join Art Blakey's Jazz Messengers in 1980. Although Broom didn't stay long with Blakey, he used to play this tune with his trio in the '80s and '90s but had never recorded it. Oh, and that Bud Powell tune? Yes, "Hallucinations," later titled "Budo" by Miles Davis, kicks off the album in true bebop fashion. The tempo slows to simmer for Mulgrew Miller's "Second Thoughts" with sublime lyrical playing from both Broom and Dillard. As he does on a few selections here, Dillard turns electronic, with the Hammond SKX, first heard on Chick Corea's "Humpty Dumpty" from 1978's The Mad Hatter as he and Broom trade verses.
The album's centerpiece is the Erroll Garner classic "Misty" which Broom plays with delectably tender emotion as Dillard comps beautifully, patiently waiting his turn to state the captivating melody in unhurried fashion. Obviously, the tune has been covered endlessly, but this rendering is indeed special.
Soul-jazz comes in the form of Horace Silver's "Quicksilver," an especially strong example of Broom's facile fretwork, "Scootchie," a Booker Ervin tune form Horace Parlan's 1961 Blue Note On the Spur of the Moment and Herbie Hancock's "Driftin'" from his 1962 Blue Note Takin' Off. Dillard's electronic keyboards on the latter are especially impressive, meshing gorgeously with Broom's melodic lines.
So, for a bit of unplanned symmetry, we end as we began with McCoy Tyner. Broom does two versions of the pianist's "Blues on the Corner" from the 1967 Blue Note classic, The Real McCoy. He positions (Take 2) as the eighth track and (Take 1) as the closer. They both swing hard, but we give the edge to (Take 2) but both are worthy, given that Broom's solo goes a bit deeper in the closer and the rhythm tandem get their chance to stretch out. The spirited exchanges of fours, eights, and twelves that course through both versions typify this tight unit's focused interplay.
Broom's quartet finds that sweet spot at the intersection of faithful reverence, lyrical restraint and spirited swing. They are infectious throughout.
– Jim Hynes
Help Support Making a Scene
Your Support helps us pay for our server and allows us to continue to bring you the best coverage for the Indie Artists and the fans that Love them!
Make a one-time donation
Make a monthly donation
Make a yearly donation
Choose an amount
Or enter a custom amount
$
---
Your contribution is appreciated.
Your contribution is appreciated.
Your contribution is appreciated.
Donate
Donate monthly
Donate yearly
Subscribe to Our Newsletter