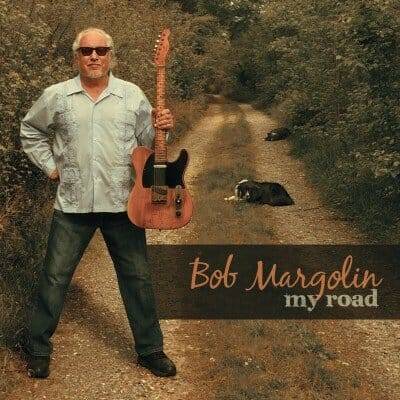 Bob Margolin
My Road
Vizztone Label Group
For seven years Bob Margolin was the guitarist in The Muddy Waters Band. He even appears with Waters in Martin Scorcese's movie "The Last Waltz" released in 1978. In 1980 Margolin left Waters to start his own band.
Margolin recorded 1989's "The Old School" for Powerhouse Records; 1993's "Down in The Alley" for Alligator; the 1996 Grammy nominated "You Gonna Miss Me: A Tribute to Muddy Waters" with The Muddy Waters Tribute Band on Telarc; 1999's "Hold Me To It" on Blind Pig; and 2003's "The Bob Margolin All-Star Blues Jam" also on Telarc. Margolin's last three albums were on his own Steady Rollin label distributed by The Vizztone Label Group of which he is a founding partner.
Margolin's journey from sideman to songwriter and front man did not go unnoticed by the blues community. Margolin has nine Blues Music Award nominations and has won three times. In both 2005 and 2008 Margolin won the award for Best Instrumentalist-Guitar. The later award was in support of his 2007 "In North Carolina" recording. In 2013 he won the "Acoustic Album of The Year" award for "Not Alone" recorded with the late Ann Rabson. In 2013 Margolin also won a "Keeping The Blues" alive award in Journalism.
This is Bob's eleventh album. The sound on this new recording is sparse as the band only consists of Margolin, guitar and vocals; Chuck Cotton, drums and vocals; and Tad Walters, harp and guitar. Much of what we hear on "My Road" is autobiographic. Margolin has given us this introspective look with some new originals. "My Whole Life", "More and More", "I Shall Prevail" and "Young and Old Blues" tell us his story. "Ask Me No Questions" was co-written with Walters.
Selected covers include Sean Costello's "Low Life Blues", from Costello's third album, 2001's "Moanin' For Molasses"; Nappy Brown's 1956 "Bye, Bye Baby"; Tex Rubinowitz' 1980 "Feelin' Right Tonight"; and "Heaven Mississippi" written by blues historian Terry Abrahamson.
Just like the Dos Equis beer commercial "the most interesting man in the world"; Margolin just might be the most interesting man in the blues.
Richard Ludmerer
https://open.spotify.com/album/3A16GebefwHxEIkd3NhySD