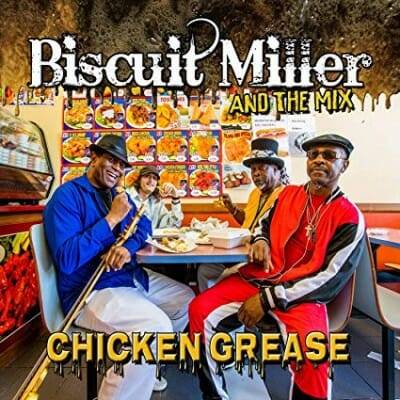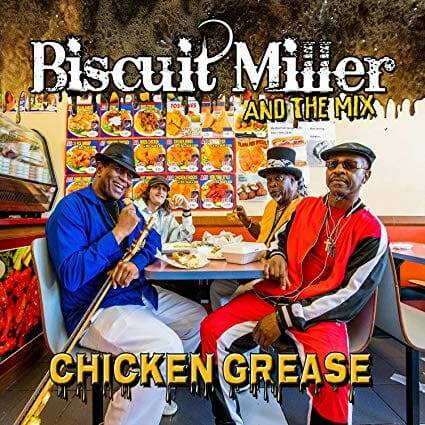 Biscuit Miller & The Mix
Chicken Grease
American Showplace Music
David Miller was raised on Chicago's Southside. He was nicknamed "Biscuit" by his grandma as he wouldn't get out of her kitchen. He learned to play bass from his older brother's friend. His first professional gig was playing with Mojo Buford formerly of The Muddy Waters Band. One-day Biscuit received a phone call from Lonnie Brooks who asked him to sit in on bass for the evening. Biscuit remained with Brooks for ten years.
Biscuit wasn't that busy during the winter months so he formed "The Mix" in 2000. His debut recording "Come Together" was released in 2002. He sat in one night with Anthony Gomes and spent five more years touring with Gomes. He released "Blues With A Smile" in 2010 and won a 2012 Blues Music Award as "Bassist of The Year". Biscuit's third studio recording "Wishbone" won him a second BMA as bassist in 2017. He followed-up with last year's "Live At The North Atlantic Blues Festival".
The band lineup includes Biscuit, bass and lead vocals; Myron "Dr. Love" Robinson, an original member of The Mix who also played with Koko Taylor and Phil Guy and reunited with Biscuit in 2010, drums; Bobby B. Wilson who has also been with Biscuit since 2010, rhythm guitar; and Alex "Southside" Smith who joined in 2013, lead guitar. Guests include John Ginty, keyboards; and Marcus Randolph, lap steel. The album is recorded, mixed and mastered by Ben Elliot at his American Showplace Studios.
All of the songs are written or co-written by Biscuit. "Here Kitty Kitty" is a highly danceable tune featuring the lyric "I know a woman her name is Kitty, would shake her hips they sure look pretty…can I make you jump up!". Biscuit's infectious bass and Dr. Love's drums pound out the beat.
Marcus Randolph has co-written "609" and he plays lap steel here and on the title track. "Southern Woman" is the first tune selected for airplay. "Two Legged Dog"; "Take a Ride" and "Get Ready" are credited to the entire band. "Lonely Road" is all Biscuit as it's both sexy and poignant as he sings "I should have known not to trust a friend".
When Biscuit performs live he mixes the occasional James Brown cover into his performance. It is virtually impossible not to get up and dance. Biscuit is parlaying his two Bass awards and becoming one of the most exciting acts touring today. This album continues his legacy.
Richard Ludmerer