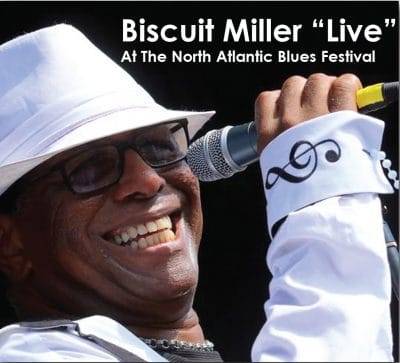 Biscuit Miller
"Live" At The North Atlantic Blues Festival
Independent
David Miller was raised on the south side of Chicago. He was nicknamed "Biscuit" by his grandma as he wouldn't get out of her kitchen. He learned to play bass from his friend's older brother. Biscuit played with Mojo Buford formerly with Muddy Waters. One day Biscuit received a phone call from Lonnie Brooks who needed him to sit in on bass for the evening. Biscuit remained with Brooks for ten years.
Brooks wasn't that busy in the winter time so Biscuit formed his own band "Biscuit Miller and The Mix" in 2000. He released his first recording "Come Together" in 2002. Biscuit sat in one night with Anthony Gomes and stayed with Gomes for another five years. Biscuit released his second studio album "Blues With A Smile" in 2010 and won the 2012 Blues Music Award for "Bassist of The Year". Biscuit's third studio recording "Wishbone" won him a second BMA as bassist in 2017.
The band, on this live set, includes Biscuit, bass and vocals; Myron "Dr. Love" Robinson, an original member of "The Mix" who also played with Koko Taylor and Phil Guy and reunited with Biscuit in 2010, drums; Bobby B. Wilson, rhythm guitar; Alex "South Side" Smith, lead guitar; and Elijah Easton, sax. Guest guitarists Gomes and Christone "Kingfish" Ingram join in the festivities before the set's conclusion.
All of the songs are written by Biscuit. From "Wishbone" is that album's title track and extended versions of "She Like to Boogie"; "Let's Go Fishing" and "She Use To Love Me". From "Blues with a Smile" Biscuit includes elongated versions of his funky James Brown tribute "Black Eyed Peas and Cornbread", and the often requested "Blow A Kiss". Gomes joins in on a bit of fun called "AG and Funky B". They remain on stage and are joined by Ingram as they jam and pay tribute to Biscuit's mentor Lonnie Brooks.
When I saw this set performed I thought it should be recorded and released. Thank you, Paul Benjamin, for bringing us this great 77 minute CD from Biscuit Miller and The Mix. Play this loud and with the levels turned up.
Richard Ludmerer
[amazon_link asins='B01MR3GIZA,B000CA9RZC,B01MY9NUC2,B005DHZI5C' template='ProductCarousel' store='maasc-20′ marketplace='US' link_id='9e9da3f7-82b6-11e8-b66c-e720a25c12e1′]