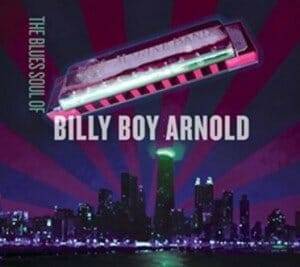 Billy Boy Arnold
The Blues Soul of Billy Boy Arnold
Stony Plain Records
This new album produced by Duke Robillard features The Duke Robillard Band backing up the legendary singer, songwriter and harmonica master Billy Boy Arnold.
In Chicago 1948 a nervous thirteen year old Arnold knocked on the front door of his idols home and Sonny Boy Williamson invited him in and treated him to a harmonica lesson. By 1957 Arnold had already formed his own band with his brother Jerome, who went on to play bass with Paul Butterfield, and Jody Williams. Arnold's songs "I Wish You Would" and "I Ain't Got You" were both covered by The Yardbirds. Arnold made a comeback when he released 1993's "Back Where I Belong" and 1995's "Eldorado Cadillac" both on the Alligator Record label. In 2008 he paid tribute to his mentor and released "Billy Boy Arnold Sings Sonny Boy" on the Electri-Fi label.
The band consists of Arnold, vocals and harmonica; Duke Robillard, guitars and background vocals; Bruce Bears, keyboards; Brad Hallen, bass; Mark Teixeira, drums; and the Roomful of Blues horn section of Rich Lataille, alto and tenor sax; Mark Earley, tenor and baritone sax; and Doug Woolverton, trumpet.
The liner notes are written by Robillard and he describes the song selection process. Arnold chose early R n' B, blues, jazz and soul gems and a few originals. Included among the fourteen tracks are Louis Jordan's "Ain't That Just Like A Woman"; Joe Tex's "A Mother's Prayer"; Chuck Berry's "Nadine (Is It You)"; Oscar Brown Jr's "Work Song", B.B. King's "Worried Dream" and the traditional "St. James Infirmary". The originals are "What's On The Menu Mama"; "Dance For Me Baby", and "Keep On Rubbing".
The band is outstanding and they are featured on solos throughout the recording. Billy Boy Arnold is one of our last connections to this era gone by. This arguably might be the Soul Blues Album of The Year.
Richard Ludmerer