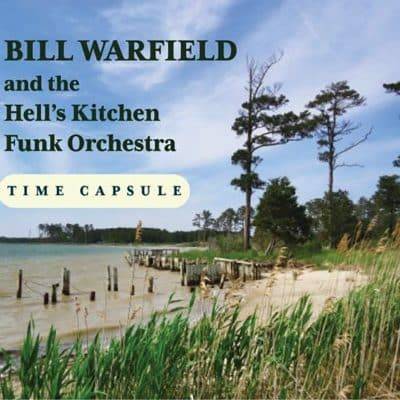 Bill Warfield and the Hell's Kitchen Funk Orchestra
Time Capsule
Planet Arts
Jazz, blues, and soul lovers will all find recognizable fare on this large ensemble recording from Bill Warfield and his famed Hell's Kitchen Funk Orchestra as they cover such gems as "I Wish I Knew How It Would Feel to Be Free," "Light as a Feather," "Cold Sweat," "Just My Imagination," "Please Send Me Someone to Love" and more in this sterling set entitled Time Capsule. Pennsylvania's Lehigh Valley folks should be especially proud as Warfield is Director of Jazz Studies at Lehigh University. Over the past decade, Warfield has issued three records alongside his Hell's Kitchen Funk Orchestra. For this effort, he authors a new configuration with an emphasis on horns and splits the difference between vocal and instrumental tunes, featuring Broadway vocalist Chrissi Poland in the former.
Kicking off with Billy Taylor's Nina Simone associated "I Wish I Knew How It Would Feel to Be Free," Warfield and vocalist Poland find an alternative meaning in the lyrics, depicting the narrator as someone who has bipolar disorder. In addition to Poland's heartfelt, nuanced vocals, Cecilia Coleman's piano and Paul Shaffer's B3 or prominent in this stirring rendition. The mood mellows immediately as the band pays tribute to Chick Corea's Return To Forever on "Light as a Feather" in a live performance recorded at Lehigh University's Zoellner Arts Center, largely with ensemble playing but also with featured soloists Matt Hong (bari sax) and Coleman (piano). Warfield reaches back sentimentally for "Alfie," one of the first tunes he learned on trumpet. Poland puts her own stamp on Dionne Warwick's original vocal.
Then the "Funk" in the orchestra goes full throttle on James Brown's "Cold Sweat/I Got the Feeling," a feast for the horns and the band as a whole as the eight plus minute medley allows for multiple soloists – Hong on alto, Shaffer on organ, Dave Rekenberg (tenor), Kurt Bachur (bari sax), Matt Cherkoff (guitar), and the leader wailing on trumpet. In another throwback move, Warfield taps the Temptations, a group with whom he performed countless times, for a different kind of soul, Motown style with an aptly more restrained Poland taking the mic again. With Corea's Return to Forever in the mix, Weather Report is another obvious choice. Warfield shares this perspective on the Joe Zawinul penned "Man in the Green Shirt" – "The title references the cover of Milestones that came out in the late '50s. The image shows Miles Davis sitting on a stool wearing a casual green shirt. This was a big to do in the industry because, in their eyes, everybody was supposed to have a tux on or wear some kind of show clothes." Soloists are Lou Marini (alto saxophone) along with Rekenberg and Cherkoff, all burning.
. Two consecutive bluesy numbers follow, beginning with Poland's arresting vocal on Percy Mayfield's "Please Send Me Someone to Love," another of a few tunes that Warfield originally arranged for jazz vocalist Nicole Henry. It's one of the best in Mayfield's catalog and never gets old. Shaffer's B3 is right on the mark as is Rekenberg's gutty tenor solo. The second is a soul-blues in the Lou Donaldson boogaloo style, "Zoe's Dance," which is based on Mike Sweetman's 1995 track "Angela's Strut." Warfield soars while Shaffer's organ provides the grease and Bachur's baritone sax the earthy bottom.
Poland made an impression on Warfield with her take on "Finale/Let It Go" from Disney's Frozen, rendered dramatically here with assist from Matt Hong on a fiery alto solo. Memories of Warfield's recently passed brother and bandleader Paul Cridler color the elegiac "Chain Reaction," rendered by a ten-piece band and enhanced with overdubs for a larger big band orchestration. The odd time signature of 13/8 and its slower tempo ( albeit the livelier mid-section) set it apart from the other selections, with Warfield on flugelhorn and Coleman's piano in the spotlight. Warfield rounds out the disc with an instrumental version of "Alfie" and a radio edit of "Cold Sweat." It's a collection of tunes dear to Warfield, showcasing his arrangements and pulsating with energy in most spots.
Here are the other musicians, not mentioned above: Steve Count (bass), Matt Owens (trumpet, flugelhorn), Scott Neumann (drums), John Eckert (flugelhorn), Pete Brainan (alto saxophone), Charley Gordon (trombone), and Colin Brigstocke (trumpet).
Help Support Making a Scene
Your Support helps us pay for our server and allows us to continue to bring you the best coverage for the Indie Artists and the fans that Love them!
Make a one-time donation
Make a monthly donation
Make a yearly donation
Choose an amount
Or enter a custom amount
$
---
Your contribution is appreciated.
Your contribution is appreciated.
Your contribution is appreciated.
Donate
Donate monthly
Donate yearly
You can donate directly through Paypal!
Subscribe to Our Newsletter