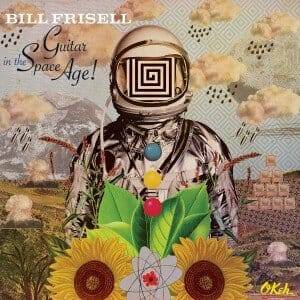 Bill Frisell "Guitar in the Space Age!" Okeh Records – Sony – www.BillFrisell.com
Title this recording as (updated) memorabilia of the fifties and sixties, it plays like an AM radio jukebox from the same era, but radiates a current and unique vibe. No matter; set your way-back machine(s) and enjoy the modernized and respectful (all-instrumental) blasts from the past that additionally includes a pair of newly penned Frisell tunes.
Joining guitarist Frisell are familiar associates; Greg Leisz on guitar and pedal steel, vibraphonist/drummer Kenny Wollesen and bassist Tony Scherr. The songs are improvisational, but calling this music jazz would be a stretch. For example checkout lengthy and hazy sustained note that jolts "Pipeline" and the hypnotic atmosphere that ensues with spacey interplay and abundant creativity that overshadows the original (surf –rock) version by the 1962 one–hit wonders the Chantays. By the way: "Pipeline" originally clocked in at (2:19) Frisell's is (7:02) which tells you that there's a lot happening on this shrewdly chosen opening track that sets the tone for the entire recording. Pete Seeger's "Turn, Turn, Turn" is presented like the Byrds interpretation, but this rendition is a borderline rocker here. Note the generational wah-wah intro to Mel London's "Messin' with the Kid" covered in blues by many including this thumping take that offers an old-school blues-band conclusion. The warmth of the sun is gorgeously captured on Brian Wilson's heartfelt 1963 classic "Surfer Girl." Milt Grant's and Link Wray's "Rumble" resembles the 1958 original especially with the use of feedback and distortion, Frisell and company seemingly have a ball bashing the famously memorable chords along with perceptive solos from the strings of Leisz and Frisell.
Frisell's original "The Shortest Day" is a tender and almost motionless until the pace quickens with clever solo themes from Leisz and Frisell that are amplified with occasional vibraphone smatterings. Like a pony express ride "Rebel Rouser" by Lee Hazlewood and Duane Eddy mildly resembles the '58 classic with clean twang guitar work from both guitarists. The western journey segues to Hazlewood's '63 under the radar chestnut "Baja," originally a minor hit by the mid-western surf band the Astronauts. Sounds like thumb picking time on Merle Travis' "Cannonball Rag" that's a hoot that stylistically bends country western. The Kinks 1965 "Tired of Waiting for You" by Ray Davies is lengthy (6:02) and dreamy, but becomes a bit intense as Frisell and Leisz soar with remarkable chemistry when they explore and extend the well-known theme. I was not familiar with Speedy West or his "Reflections from the Moon" but suspect that Greg Leisz knew that Speedy was also a pedal steel guitarist. Additionally Speedy worked with session guitarist Jimmy Bryant (who was billed as the fastest guitar in country) and authored "Bryant's Boogie" a wildly country swinging affair that nattily pairs with the prior tune. The second Frisell original "Lift Off" doesn't lift, but it's mellow, short and sweet. This well-conceived album closes with Joe Meek's "Telstar" originally performed by the UK group the Tornado's. "Telstar" was the first dual UK and USA number-one hit, sold over five million copies and was named after the still orbiting satellite. On this rendition the goofy sixties electronics are thankfully omitted, as Frisell and his cohorts lift off into the stratosphere taking us for a captivating tour around planet earth
"Guitar in the Space Age!" is a modernized trip down memory lane with great guitar songs from the USA-USSR race to outer-space days. You will enjoy the ride of Frisell transporting us into the future, not an easy balancing act as he also stays close and is respectful of the original performances. I also suspect this band had a blast making this gem that will likely land on many DJ's and journalists 2014 lists of best of albums of the year. Enjoy!
For fifteen years Bob Putignano has been pivotal at WFDU with his Sounds of Blue radio show (Mon. & Wed. 9am-1pm) www.SoundsofBlue.com – Previously a senior contributing editor at Blues Revue, Blueswax, and Goldmine magazines, currently the Music Editor for the Yonkers Tribune www.YonkersTribune.com – www.MakingAScene.org & www.wfdu.fm/Whats-Happening/Bob's Music Reviews/bobs music reviews/ Bob was the 2003 recipient of the "Keeping the Blues Alive" award (given by the Blues Foundation in Memphis) for his achievements in radio broadcasting.
Putignano can be contacted at: bob8003@yahoo.com