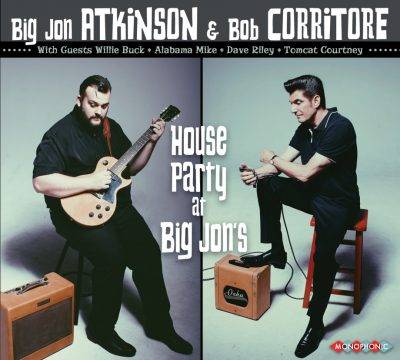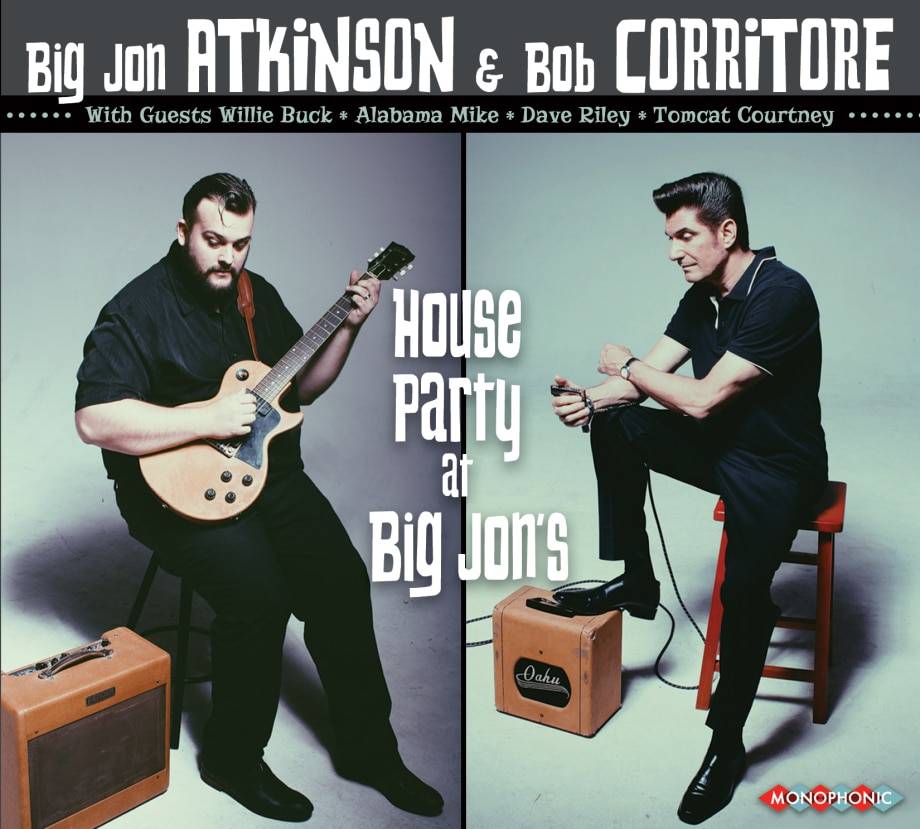 Big Jon Atkinson & Bob Corritore
House Party at Big Jon's
Delta Groove Music
Bob Corritore was born in Chicago in 1956. He relocated to the Phoenix area and began working with Louisiana Red. Corritore also played in a band with Janiva Magness. He started a weekly radio program "Those Lowdown Blues" on WJZZ and it still airs today. In the early 1990's Corritore opened his own blues club called "The Rhythm Room" and began playing in the house band "The Rhythm Room All-Stars". Therefore he backed musicians when they came to town including Bo Diddley, Pinetop Perkins, and Eddy Clearwater. In 1995 Corritore produced Louisiana Red's "Sittin Here Wonderin" on the Earwig imprint. He recorded his own debut album 1999's "All-Star Blues Sessions" on High Tone Records. In 2011 Corritore won a Blues Music Award for the collaborative "Bob Corritore and Friends: Harmonica Blues" on the Delta Groove label. He also has four other BMA nominations and ten albums overall. He has been partnered with Dave Riley, Kid Ramos, Tail Dragger, John Primer and Henry Gray. Corritore has also produced twenty albums and guested on 63 others.
Only 28 years old Big Jon Atkinson is regarded as one of the youngest and brightest guitarists and singers in the old school tradition. In 2014 Atkinson released his debut album "Boogie With You Baby" on Bluebeat Music and it received rave reviews.
The band consists of Corritore, harmonica, Atkinson, guitar and vocals; Danny Michel, guitar; Troy Sandow, bass; and Malachi Johnson, Brian Fahey or Marty Dodson, drums.
Atkinson has written "Goin Back to Tennessee", "It Wasn't Easy" and "My Feelings Won't Be Hurt". On these he sings. He also sings on "Empty Bedroom" from Sonny Boy Williamson II; on "She's My Crazy Little Baby" written by Jerry West a.k.a. J.D. Miller, a record producer, who worked with Slim Harpo and Lazy Lester; and on Harpo's "I'm Gonna Miss You Like The Devil". Atkinson's voice is reminiscent of James Harman. Atkinson plays guitar on all tracks but two.
Corritore has also written three songs. "Here Comes My Baby", and "Mad About It" are both sung by Atkinson. "El Centro" is an instrumental. Corritore plays harp throughout the album.
Additional vocalists include Dave Riley, Tomcat Courtney, Willie Buck and Alabama Mike. The additional vocalists sing on their own songs except for Willie Buck who sings on Harpo's "I'm a King Bee"; and Alabama Mike who sings on both Lightnin' Hopkins' "Mojo Hand", and on "Somebody Done Changed The Lock on My Door" written by Casey Bill Weldon and recorded by B.B. King in 1960.
All of Corritore's recordings are exceptional and this is no exception. Better pick up your invitation to the house party at Big Jon's.
Richard Ludmerer