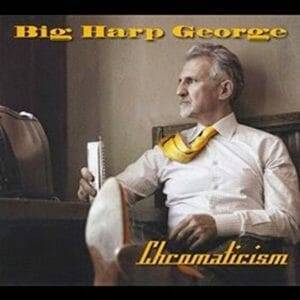 Big Harp George
Chromaticism
Blues Mountain Records
George Bisharat a.k.a. Big Harp George first heard the Blues when his older brother brought home a copy of Paul Butterfield's East-West album. He wanted to learn how to play Nat Adderley's Work Song which Butterfield covered on that album. Once he heard Sonny Boy Williamson II he was hooked on harp. Bisharat's other harp influences include George Smith, William Clarke and Paul deLay.
Bisharat's only previous recorded work is guesting on two older Otis Grand tracks. At 59 years young this is Bisharat's album debut. Bisharat got the idea of playing the Chromatic harp in multiple positions from deLay and states that he didn't want to record until he had something new to say.
Bisharat's playing is jazzy so for this album he enlisted some of our finest West Coast musicians. The band is Bisharat, vocals and harmonica; producer Chris Burns, keyboards; Raja Kawar, drums; and Kid Anderson, bass and guitar. Guest musicians include guitarists Little Charlie Baty and Rusty Zinn; Kent Bryson, vibes; and Michael Peloquin, sax.
The opening track "Smack Dab in the Middle" was written in 1955 by Chuck Calhoun and recorded by Count Basie. Bisharat plays some of the Basie Band horn lines on Chromatic. Bryson's vibes complete the sound. Vocally Bisharat sounds a little like Charlie Musselwhite.
Bisharat covers Sonny Boy Williamson's "Crazy About You Baby". This is the only track on which Bisharat plays a diatonic harmonica. Burns pounds it out on piano. Bisharat also covers two T-Bone Walker tunes; the Mambo sounding "Hard Way" and "My Baby is Now on My Mind". The later featuring both Anderson and Zinn on guitar.
"Left So Soon" is a tribute to deLay. I had the pleasure of meeting deLay and I am touched by Bisharat's lyrics. "Hey Paul why did you go and leave us so soon, hey Paul why'd you have to leave us so soon, you were the life of the party, left us waiting on one last tune. When we needed a laugh you were ready with a real good line, yea when we needed a laugh you was always ready with a fine line yea when it came time for tears, baby you knew all about cryin' time." "Cellphone Hater" another original, features Zinn's guitar and Peloquin's tenor sax. This is a nice vocal performance from Bisharat.
Then there are three instrumentals; "Chromaticism" includes some jazzy guitar from Baty. "Cocktail Hour" showcases William Clarke's influence on Bisharat's playing; Bryson's vibes add the finishing touch. On Gene Krupa's "Drum Boogie", Kawar's drums, Baty's guitar, Peloquin's sax and Bisharat's harp combine to complete this dramatic closer.
This is exciting music. Bisharat has something to look forward to when he retires from his teaching career. This is the way the Chromatic harmonica should be played.
Richard Ludmerer